February 20, 2019 12:33 pm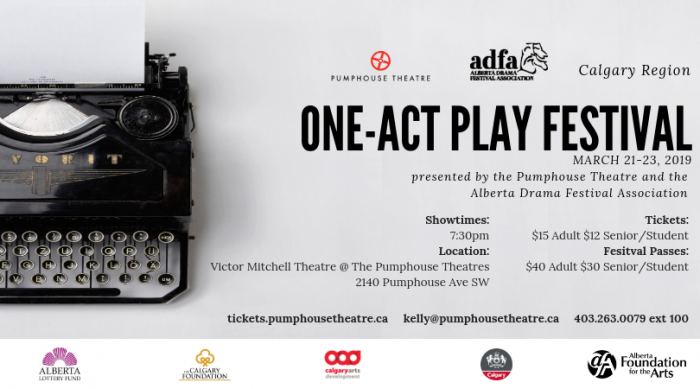 ---
Detailed program information can be found below.
March 21
Remaining Anonymous
From an Unknown Source
Zoo
March 22
Waiting on Thunder
Mercutio & Tybalt
A Millennial's Guide to Dating in the 21st Century
March 23
Slaughterhouse Jive
Calling
Awards Ceremony
---
The Pumphouse Theatre and Alberta Drama Festival Association are at it again for the 36th annual Calgary Region One-Act Play Festival.
Over three evenings, from March 21-23, we are thrilled to be presenting nine one-act plays from a diverse array of local artists. From drama to comedy, new work to classics, the One Act Play Festival offers something for everyone. Each evening will be accompanied with a public adjudication by this year's festival adjudicator, and a post-show reception. The Calgary Region One-Act Play Festival is an exciting way to see some of Calgary's most passionate up and coming theatre artists. Come take in a night of great entertainment while supporting local performing arts!
When:
March 21-23, 2019
7:30 pm nightly

Where:
Victor Mitchell Theatre @ The Pumphouse Theatres
2140 Pumphouse Ave SW
Tickets:
$15 Adult & $12 Senior/Students
Festival Passes:
$40 Adult & $30 Senior/Students
For more information:
Kelly Malcolm, Programming Director
kelly@pumphousetheatre.ca
403.263.0079 ext 100
---
Line-Up
Show #1
Remaining Anonymous
Written by Jelena Minshall
Presented by Creatures of Fire Theatre
Show #2
From An Unknown Source
Written by Alan Lebeouf
Presented by Workshop Theatre
Show #3
Zoo
Written by Madeleine Taylor Gregg
Presented by Reckless Daughter Creative
---
Show #1
Waiting on Thunder
Written by Mike Czuba
Presented by DIY Theatre
Show #2
Mercutio & Tybalt
Written by Val Duncan & Celene Harder
Presented by Valour & Tea
Show #3
A Millennial's Guide to Dating in the 21st Century
Written by AJ Baragar
Presented by Red String Theatre
---
Show #1
Slaughterhouse Jive
Written by Nickolina Foussekis
Presented by Emanating Theatre
Show #2
Calling
Written by Laura Couch
Presented by Seven Starving Artists
Awards Ceremony