January 18, 2019 2:31 pm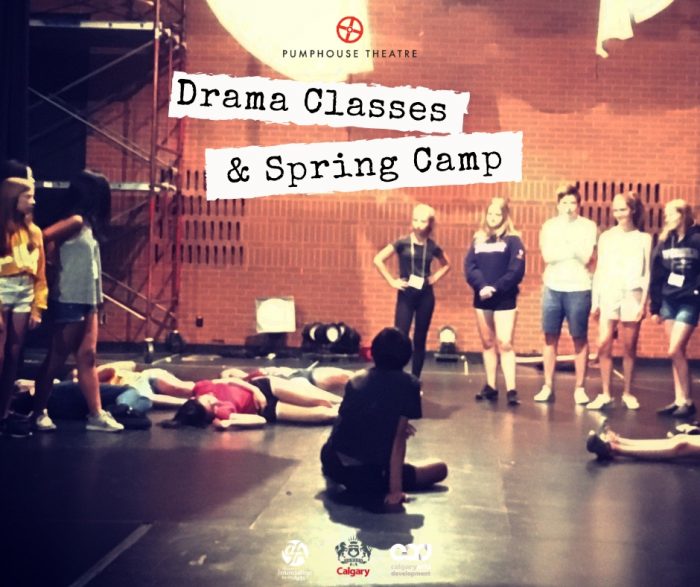 ---
Spring Classes


---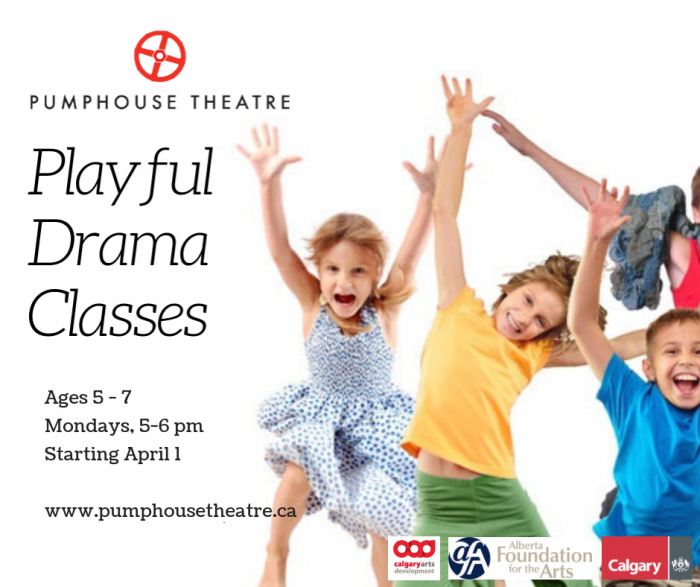 Ages 5-7
April 1 – June 15, Mondays, 5:00 pm – 6:00 pm
(No classes on April 22, May 20 & June 10)
Fee $100 ($80 Discounted*)
This course is a great introduction to the drama basics and covers a variety of topics including story-telling, character, sharing, movement, and theatre games. This is a wonderful way to help your child explore their imagination, learn new skills, and have fun! No experience required!
---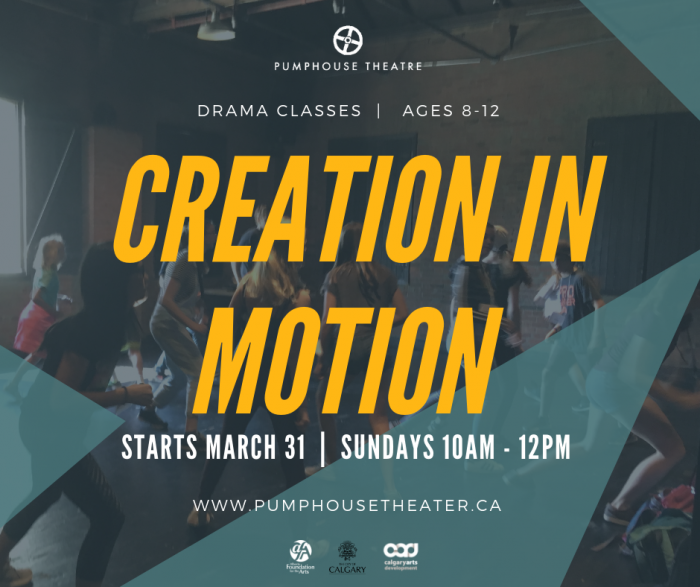 Ages 8-12
March 30 – June 23, Sundays, 10:00 am – 12:00 pm
(No classes on April 21, May 19 & June 9)
Fee $225 ($200 Discounted*)
Explore storytelling and harness imagination through physicality.  Creation in Motion will encourage creative expression through movement, choreography, mime, balance, staging, and mask.  Students will learn about teamwork, gain self-confidence, and be physically active, all within a safe and engaging environment. No previous experience is required!
---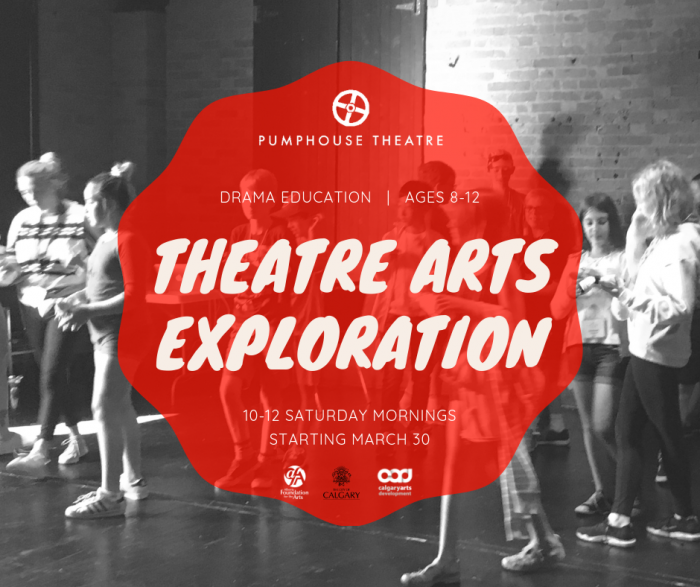 Ages 8 – 12
March 30 – June 15, Saturdays, 10:00 am – 12:00 pm
(No classes on April 20 & May 18)
Fee: $225 ($200 Discounted*)
This course is an all-inclusive exploration of the theatre arts. Students will be encouraged to discover a variety of dramatic techniques such as character creation, improvisation, movement, Shakespeare, scene study, and more! Have a blast creating and performing an original final presentation for friends and family. No previous experience required!
---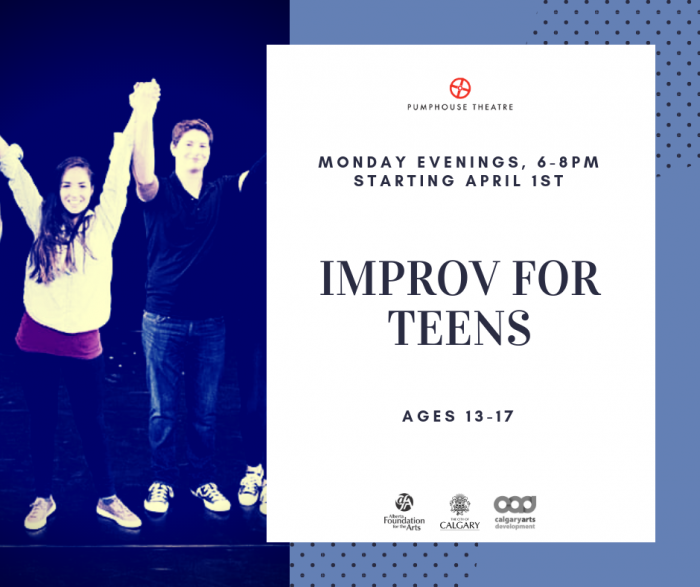 Ages 13-17
April 1 – June 24, Mondays, 6:00 pm – 8:00 pm
(No class on April 22, May 20 & June 10)

Fee $300 ($275 Discounted*)
Improv is a great way to have fun and explore while bolstering creativity, adaptability, team work, and confidence. This course includes lessons in theatre sports, character development, story-telling, and many favourite improvisation games. Be inspired to think outside the box, learn something new, and have fun!
---
Ages 13-17
March 30 – June 15, Saturdays, 10:00 am – 12:00 pm
(no classes on April 20 & May 18)
Fee $300 ($275 Discounted*)
This course is designed to give young performers a deeper understanding into the written world of theatre. Through examining classic and contemporary text, students will be guided to explore the craft of playwriting and dramaturgy and learn what it means to tell an effective story. Students will be able to have the opportunity to write their own monologues and short ten minute plays.
---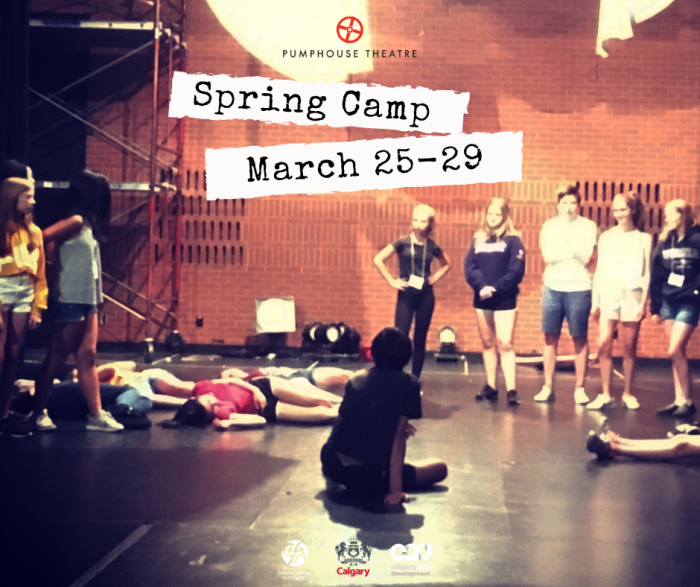 Spring Camp
March 25-29, 2019 @ The Pumphouse Theatre
Monday – Friday 9am – 4:30 pm (37.5 hours)
Fee: $300 ($250 discounted*)
Pre/Post Care included in registration fee!
Early-bird deadline: February 25


Where every day is a little bit different! This camp offers a wide range of activities and drama games, taught by a team of professional instructors. In the afternoons, students work to develop a performance that will be shared with family and friends on the final day of camp, allowing students to put their new skills to practical use. This year's theme is
Whether a first-time camper, or a returning student who just can't wait for our summer session, Pumphouse Theatre's Spring Camp is a fun and creative way to spend spring break!
---
Cancellation is permitted (less a $25 administration fee) provided notice is given a minimum of 10 business days prior to the first day of camp. No refund will be given with less than 10 business days notice, without a doctor's note.
* Discounts apply to those registering before February 25th or those registering multiple participants from the same family.
If you have any questions, please email Kelly Malcolm, Programming Director at kelly@pumphousetheatre.ca.