Calgary, Alberta based artist Amelia Rodriguez has been creating art since early 2012. Currently taking a gap year from her Visual Arts degree at the University of Calgary, Amelia is spending lots of time working and creating art. Believing that art is a process, not a project, Amelia approaches her paintings with a light heart and an open mind. These two aspects have become foundational for many of her pieces, leading them to look very dream-like, brightly coloured, and emotional. Always trying to invoke some sort of childlike playfulness in her viewers, Amelia adds certain adornments to her paintings such as handwritten notes, craft supplies, immaculate thrift store finds, and fake vines to make the painting feel more tangible to the viewer in hopes of unearthing a sort of nostalgia within them. With hopes to one day become a full-time artist, Amelia plans to finish her degree and continue creating art wherever and whenever she can.
Website: https://ameliarodriguez9.wixsite.com/website | Instagram: @ames_lames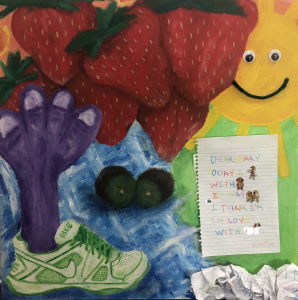 Dear Diary
24" x 24"
Acrylic on Masonite
$250.00
Description: Abstract work of strawberries sneakers and handwritten note with stickers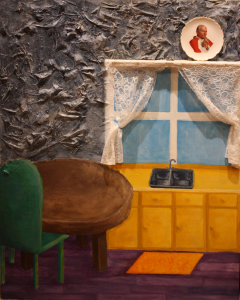 Let's Stay Close
48" x 60"
Acrylic on Masonite
$540.00
Description: Purple floor with yellow cabinets and green chair. Large window painted with real lace curtains hanging.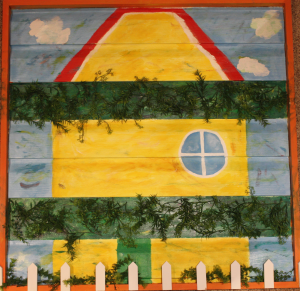 Hiccup
36" x 36"
Acrylic on Wood and Vinyl Siding
$390.00
Description: White house painted on wood and vinyl siding adorned with wooden fence and plastic vines.