Apiow Akwai is an emerging artist based in Calgary, Alberta. She was born and raised in South Sudan until the age of eight. Apiow and her family immigrated to Canada to escape the civil war and pursue higher education. She discovered her passion for arts at the age of six. What started as a creative and emotional outlet led to her deep respect and appreciation for the arts. 
She first became interested in pursuing a career in visual arts after attending her first exhibition devoted to Michelangelo Merisi Caravaggio at the National Gallery of Canada. Caravaggio's style incorporates raw and haunting emotions that resonate deeply with Apiow as a person and as an artist; greatly inspiring her work. Her work primarily focuses on the contrast between light and dark shadows; highlighting the fine details of the dark and beautiful chaos of emotions that is intentionally portrayed across all her work. Apiow uses oils and acrylics on canvas and on larger scale pieces. She also uses mixed media and graphic design. 
 Apiow graduated from Sheridan College in the Visual and Creative Arts program; with hopes of becoming a certified Art Therapist. She has also worked with non-profit organizations such as the Boys and Girls Clubs of Canada and has spearheaded art-based initiatives to inspire young people from at-risk communities to have an outlet. She has over six years of experience working with youth in educational, recreational programming and teaching visual arts. Apiow is currently working on a new project for her next show in Spring 2021 and is studying psychology at St. Mary's University with the hopes of becoming a registered art therapist.
Website: www.apiowakwai.com | Instagram: @Apiow_Akwai
By Any Means
6" x 8"
Acrylic
$85.00
Description: When I created this painting, I wanted to focus on my craftsmanship, design, and colour pallet. The design of the women was my main starting point as it would represent society's views and obsession of beauty standards. The decapitation of the head represents the harm we face when learning these standards as young girls. Although this painting may be haunting, I wanted it to also be appealing and vibrant to the viewers. This way the viewers get the chance to pay attention to the underlying message portrayed.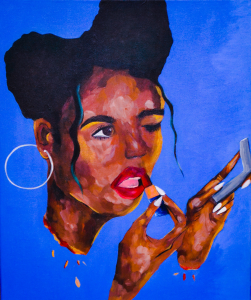 Merciful Freedom
4" x 5 1/2"
Mixed Media
$55.00
Description: Merciful Freedom was inspired by the BLM movement. It was created in mixed media on a wood panel. Using the wood panel gave me a chance to really focus on the details of the hands and flowers in the background by using different paints and techniques. I decided to have the hands catching flowers falling from the sky while the wrist was in handcuffs as a raw representation of the haunting circumstances people of colour face.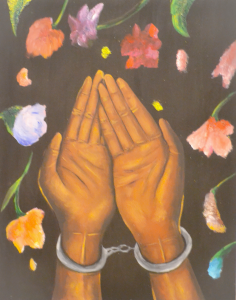 Deep End
8" x 12"
Oils and Acrylic
$95.00
Description: Deep End is an important painting that showcases the insecurities women face during the social media era. Although the body in this painting would be celebrated in real life, I decided to emphasize that the figure's body language is shown to be uncomfortable and in a hiding position. The butterflies are surrounding her represent the beauty that has been lost due to unrealistic images show throughout social media that affects our generation.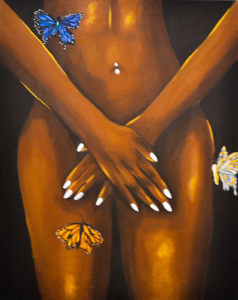 You Have to Take the Stairs
4" x 5 1/2"
Oils and Acrylic
$65.00
Description: "You Have to Take the Stairs" is a metaphor I like to compare to the idea of taking the long way to the top; rather than rushing, taking shortcuts. I decided to have a woman standing on a head with a sunset background to represent that there is no easy way to becoming successful. I intentionally made the sunset background blurry to focus on the two figures at the centre of the painting.