Calgary Clown Festival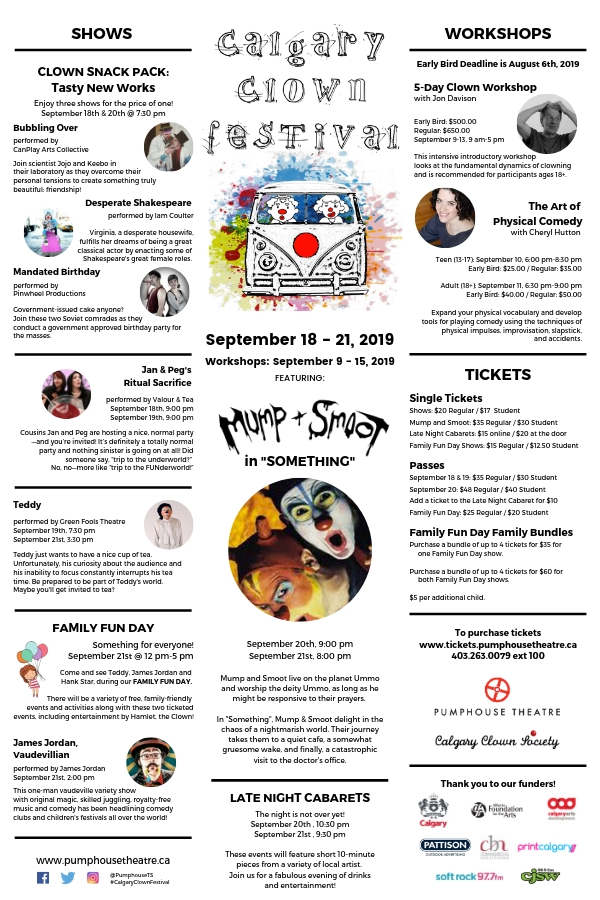 Calgary needs more excuses to have a good laugh, and The Pumphouse Theatre, in partnership with the Calgary Clown Society has decided to do something about it! From September 9th – 21st, 2019, we will be hosting the Calgary Clown Festival.
This event is a rare opportunity to introduce Calgary to the not-so-serious art of clowning and challenge the perception of what clowning is, while showcasing the rich and talented community of artists. There will be workshops for the curious and enthusiastic, along with intensive training sessions so that the the serious (but not so serious) professional entertainers can advance their careers and elevate the level of performance in Calgary.
Following the workshops will be four days chalk full of shows and entertainment! We are incredibly excited to announce that the famous clowning duo, Mump & Smoot will be headlining the festival and seven other acts will be featured along with a family day on Saturday for the kids and late night cabarets for the adults!
Join us in celebrating physical theatre and all the magical possibilities that can come from a clown on stage.