January 28, 2019 3:34 pm
Quenten Doolittle Memorial Art Gallery: Emerging Artist Exhibit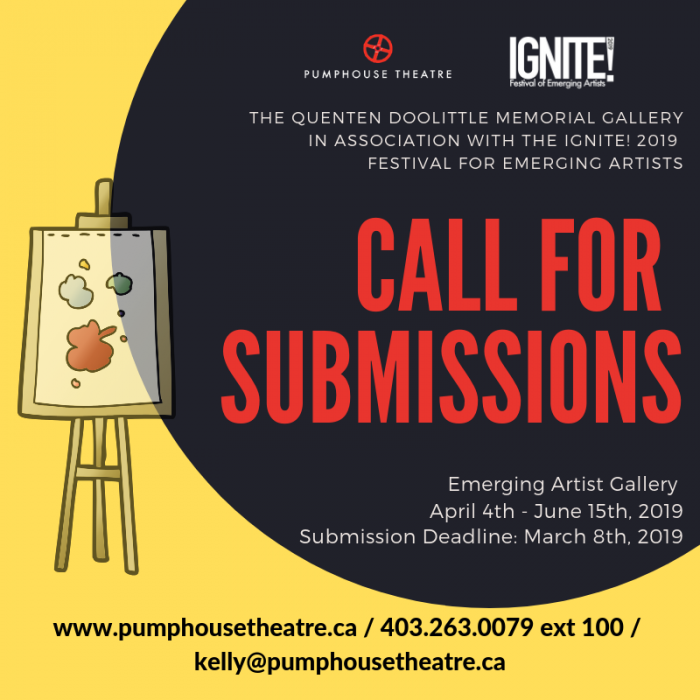 Submission Deadline: March 8th, 2019
Exhibit: April 4th – June 14th, 2019
The Pumphouse Theatre is a vibrant facility with historical significance supporting and presenting all art forms; and creating opportunities for engagement, enrichment, cultural experience, learning and inspiration serving all Calgarians. The Quenten Doolittle Memorial Gallery – previously known as Pumphouse Theatre Art Gallery – provides accessible wall display space for Calgary and Alberta visual artists to display and sell their work, free from commission.
Submissions must meet the following requirements:
• Artist resides in Alberta and must be available for installation.
• Artist must be an Emerging Artist, defined as being active 5 years or less in the industry.
• Artwork must be delivered ready to hang (wall-space only)
Installation Requirements:
All art should be equipped with picture hanging wire or appropriately placed D or Triangle ring hanger. Frames less than 9/16" depth with no attachment can typically be accommodated.
To apply, please send the following information:
• Gallery Submission Form
• Artist Biography (250 words max)
• Artwork: Photos, maximum of 5, do not send original works.
Gallery Submission Form
Timeline: Submission Deadline: March 8th, 2019, 4 pm
Installation: March 31st – April 3rd, 2019 Gallery Close: June 14th, 2019
Applications or queries are sent to:
Attn: Kelly Malcolm, Programming Director
2140 Pumphouse Ave SW
Calgary, AB T3C 3P5

Kelly@pumphousetheatre.ca
403-263-0079 ext. 100

Selection Process: Art pieces are selected by a committee of no less than 3 people and are a mix of artists and administrators. Selection criteria is based on suitability to the theme, artist's technique, elicited emotional response, creativity & innovation, and suitability for the Pumphouse Theatre art gallery space and its patrons (all ages, representing various socio-economic and cultural backgrounds).