January 28, 2019 3:34 pm
Quenten Doolittle Memorial Art Gallery: Emerging Artist Exhibit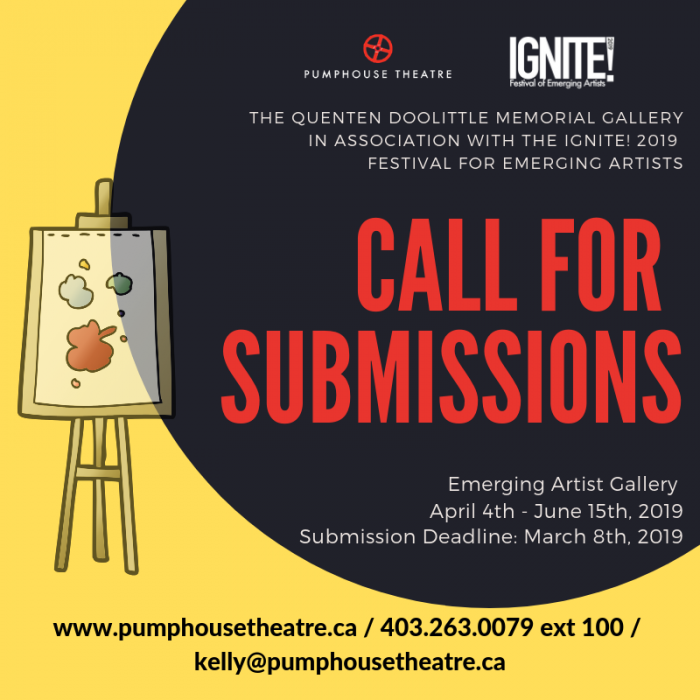 Submission Deadline: March 8th, 2019
Exhibit: April 4th – June 14th, 2019
The Emerging Artist Gallery this year is in association with Sage Theatre's IGNITE! 2019 Emerging Artists Festival. IGNITE! is a festival dedicated to supporting, mentoring and presenting emerging artists of all disciplines. IGNITE! allows artists to embrace risks in a supportive environment while providing resources, a bridge to the professional arts community, and meaningful opportunities for collaboration and community building with their peers. IGNITE! will take place June 12 – 15, 2019 at the Pumphouse Theatres.
Artists will be given a choice to opt into allowing their work to be adjudicated to become the official art piece of IGNITE! 2019. All submissions will be displayed from April 4 to June 15, 2019. If selected to be the official art piece of IGNITE! Festival, artists will receive an artist festival pass and an honorarium for the use of their image in marketing material.
Submissions must meet the following requirements:
• Artist resides in Alberta and must be available for installation.
• Artist must be an Emerging Artist, defined as being active 5 years or less in the industry.
• Artwork must be delivered ready to hang (wall-space only)
Installation Requirements:
All art should be equipped with picture hanging wire or appropriately placed D or Triangle ring hanger. Frames less than 9/16" depth with no attachment can typically be accommodated.
To apply, please send the following information:
• Gallery Submission Form
• Artist Biography (250 words max)
• Artwork: Photos, maximum of 5, do not send original works.
Gallery Submission Form
Timeline: Submission Deadline: March 8th, 2019, 4 pm
Installation: March 31st – April 3rd, 2019 Gallery Close: June 14th, 2019
Applications or queries are sent to:
Attn: Kelly Malcolm, Programming Director
2140 Pumphouse Ave SW
Calgary, AB T3C 3P5

Kelly@pumphousetheatre.ca
403-263-0079 ext. 100

Selection Process: Art pieces are selected by a committee of no less than 3 people and are a mix of artists and administrators. Selection criteria is based on suitability to the theme, artist's technique, elicited emotional response, creativity & innovation, and suitability for the Pumphouse Theatre art gallery space and its patrons (all ages, representing various socio-economic and cultural backgrounds).