August 10, 2018 4:18 pm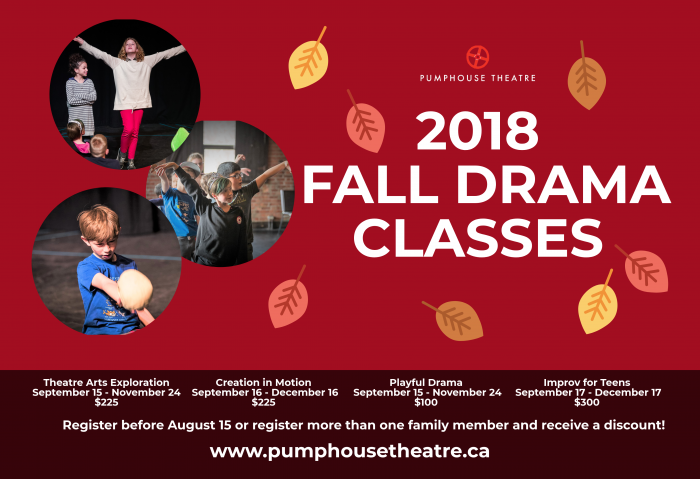 ---
Ages 5-7
10 am – 11 am
Saturdays,  September 15 – November 24, 2018
No class on October 6
Fee $100 ($80 after discount)
This course is a great introduction to the drama basics and covers a variety of topics including story-telling, character, sharing, movement, and theatre games. This is a wonderful way to help your child explore their imagination, learn new skills, and have fun! No experience required!
---
Ages 8-12
10 am – 12 pm
Sundays, September 16 – December 16, 2018
No class on Oct 7, Nov 4, Nov 18 & Dec 2
Fee $225 ($200 after discount)
Explore storytelling and harness imagination through physicality.  Creation in Motion will encourage creative expression through movement, choreography, mime, balance, staging, and mask.  Students will learn about teamwork, gain self-confidence, and be physically active, all within a safe and engaging environment. No previous experience is required!
---
Ages 8 – 12
10 am – 12 pm
Saturdays, September 15 – November 24, 2018
No class on Oct 6
Class Fee: $225 ($200 after discount)
This course is an all-inclusive exploration of the theatre arts. Students will be encouraged to discover a variety of dramatic techniques such as character creation, improvisation, movement, Shakespeare, scene study, and more! Have a blast creating and performing an original final presentation for friends and family. No previous experience required!
---
Ages 13-17
6 pm – 8 pm
Mondays, September 17 – December 17, 2018
No class on Oct 8, Nov 5, Nov 19 & Dec 3
Fee $300 ($275 after discount)
Improv is a great way to have fun and explore while bolstering creativity, adaptability, teamwork, and confidence. This course includes lessons in theatre sports, character development, story-telling, and many favourite improvisation games. Be inspired to think outside the box, learn something new, and have fun! No previous experience is required!
---


Cancellation is permitted (less a $25 administration fee) provided notice is given a minimum of 10 business days prior to the first day of camp.
No refund will be given with less than 10 business days notice, without a doctor's note.
Discounts apply to those registering before August 15th or those registering multiple participants from the same family.
If you have any questions, please email Kelly Malcolm, Programming Director at kelly@pumphousetheatre.ca.
---
We are pleased to announce our Referral Rewards Program!
EARN 10%, 15% OR 20% DISCOUNTS ON YOUR REGISTRATIONS FOR A FULL YEAR.
Click here for more information.
---