February 6, 2018 3:53 pm
We are pleased to announce the competition for the summer camp positions!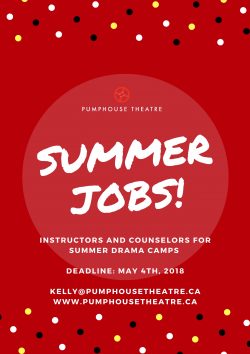 Job Descriptions:
The deadline is May 4th.
Due to the structure of the Canada Summer Jobs funding program received by the Pumphouse Theatre, applicants currently enrolled as post-secondary students and continuing their education in the fall of 2018 will have an advantage.
If you have any questions, please contact Kelly Malcolm, Programming Director at kelly@pumphousetheatre.ca or by phone at 403-263-0079 x 100.