Lovelia Vera is an experienced and creative Canadian-Venezuelan Artist who specializes in original interpretations using various artistic mediums, oil, acrylic, pastel.  
Inspired by Picasso, Dali, Bouguereau, Leger and influenced from real-life experiences in Canada,  Venezuela, India, and the USA, she learnt to express her feelings through canvas and found art to be her creative calling in 1984. Lovelia graduated from Venezuelan Technological University Institute. Maturin  /Venezuela in Administration, but her passion always inclined her to the arts. Her formal training includes: Visual Art at the School of Art Eloy Palacios. Maturin /Venezuela, Architectural Drawing at the  Academy Don Sancho. Caracas /Venezuela, Photography at the Central University Caracas/Venezuela,  two years course with the master Venezuelan painter Patrizzia Rizzo at the Museum Tezzary Rizzo.  Caracas /Venezuela and Stone Sculpture course at the University of Calgary.  
It is her belief that the sensation of freedom is achievable in every style and subject. She strives to convey that emotion in every canvas from the moment she starts creating. Lovelia is capable of creating something very abstract or shockingly realistic. Either path she takes leads her to ultimate success and enjoyment.  
Lovelia's artworks have been proudly displayed in various art exhibitions around the world and in  private collections in addition her artwork has been included in various publications: 
-International contemporary Master. 2016 
-VAAA/CARFAC Visual Arts Alberta Associate News. Building your Career. 2018 
-News El Oriental Venezuela. Culture and Art .2014  
She currently has an exhibition at the C-space King Edward, Calgary and in addition is a member of a  team selected to create a Permanent Public Art project -a sculpture- with the City of Calgary on  International Avenue.  
Social Media:  
https://www.linkedin.com/in/loveliaveraart/ 
https://www.facebook.com/loveliaveraart/ 
https://www.instagram.com/loveliavera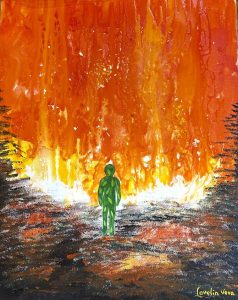 Fire Around
30" x 24"
Acrylic on Canvas
$380.00
Description: Our planet is in danger due to the increasing amount of forest fires.