One Act Play Festival Heats Up March!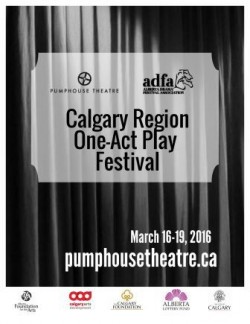 The Pumphouse Theatre and Alberta Drama Festival Association are at it again for the 33rd annual Calgary Region One Act Play Festival.
Over four evenings, from March 16-19, we are thrilled to be presenting ten one act plays from a diverse array of local artists. From drama to comedy, new work to classics, the One Act Play Festival offers something for everyone.
We are proud to feature nightly public adjudication from two-time Governor General's Award Winning playwright, Sharon Pollock. Following each night of performances, we will welcome Sharon to the stage, where she will share her thoughts about the plays that were performed.
The Calgary Region One Act Play Festival is an exciting way to see some of Calgary's most passionate up and coming theatre artists. Come take in a night of great entertainment while supporting local performing arts!
The Calgary Region One-Act Play Festival

March 16 – 19, 2016
Tickets: $15 Adult, $12 Student/Senior
Festival Passes: $45 Adult, $35 Student/Senior