Submissions are now open for
The Quenten Doolittle Memorial Gallery Exhibit: Passage of Time
Call for Visual Arts Submissions
September 12th to December 14th, 2019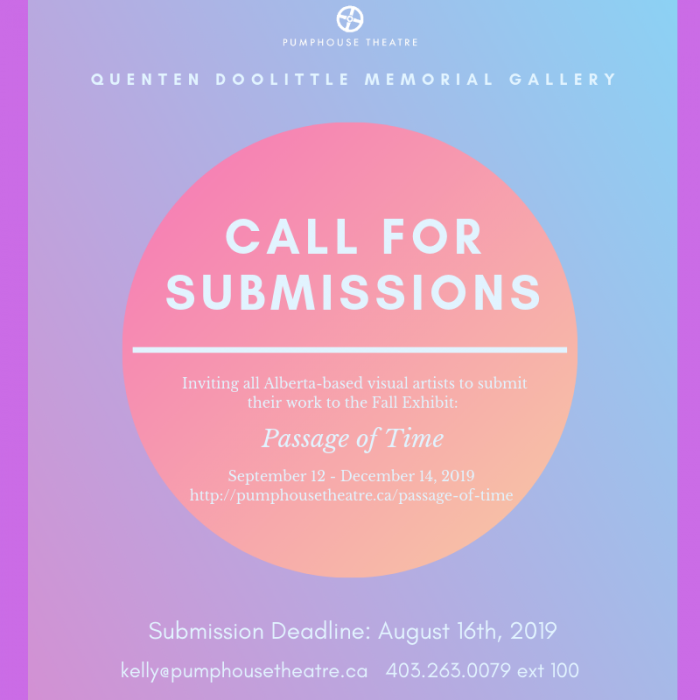 The Pumphouse Theatre is a vibrant facility with historical significance. It supports and presents all art forms and creates opportunities for engagement, enrichment, cultural experience, learning and inspiration, while serving all Calgarians. To enable this, The Quenten Doolittle Memorial Gallery provides accessible wall display space for Calgary and Alberta visual artists to display and sell their work, free from commission.
It is the nature of time not to stand still. It is continuous, inevitable, and it uniquely impacts everything in our society. We are looking for visual art pieces that reflect the passage of time. From examining the past, present and future; to exploring various life cycles; to interpreting the mechanisms that measure time, we invite artists to submit their creative endeavours which capture these moments. Submissions of any style, from realistic to abstract, and in any visual art medium will be considered, provided it meets all gallery requirements below.
Submissions must meet the following requirements:
Artists must reside in Alberta and must be available for installation dates provided.
Art must fit the theme of the exhibit
Artwork must be delivered ready to hang (wall-space only)
Installation Requirements: All art MUST be equipped with picture hanging wire and D rings. Hanging cleats will not be accepted.
Timeline:
Submission Deadline: August 16th, 2019 4pm
Installation: September 8-11th, 2019
Gallery Close: December 14th, 2019
To apply, please send the following information via email or mail:
Completed Gallery Submission Form
Artist Biography (250 words max)
Artwork: Photos, maximum of 5, do not send original works.
Applications or queries are sent to:
Attn: Kelly Malcolm, Programming Director
2140 Pumphouse Ave SW, Calgary, AB T3C 3P5
Kelly@pumphousetheatre.ca 403-263-0079 ext. 100
Selection Process: Art pieces are selected by a committee of no less than 3 people and are a mix of artists and administrators. Selection criteria are based on: suitability to the theme, technique, emotional response, creativity & innovation, and suitability to the Pumphouse Theatre gallery space and its patrons (ages 5 and up representing various socio-economic and cultural backgrounds). Unfortunately, we are unable to accept works that feature nudity.