THE 2018 CAMP THEME IS "DEEP SEA EXPLORATION"
The Pumphouse Theatre Drama Day Camp is a great introduction to drama basics. Participants learn through dramatic arts to gain confidence, make friends and have fun!
| | | | |
| --- | --- | --- | --- |
| Session 1 | July 9 – 20 | $500 | $450 |
| Session 2 | July 23 – 27 | $300 | $250 |
Pre-Care: 8:00 am – 9:00 am
Post-Care: 4:30 pm – 5:30 pm
Pre & Post Care are included in the cost of registration. Each day of the camp is divided into classes, covering a variety of acting techniques, speech, physical theatre play creation, and much more! Emphasis is placed on group work that helps to develop social and life skills. Under the guidance of our professional instructors, participants will work together within their age group to create a play. At the end of each session, participants will showcase their new talents to family and friends by performing this brand-new creation.
A $50 Discount applies to multiple registrations per family or to registrations received before June 9th. Participants are 7 to 15 years old.  Final performances are on the second Thursday of the two-week sessions, and on the Friday of the one-week sessions. Participants receive an official camp t-shirt as well as a DVD of their final performance.
Cancellation is permitted (less a $25 administration fee) provided notice is given a minimum of 10 business days prior to the first day of camp. No refund will be given with less than 10 business days notice, without a doctor's note.
If you have any questions, please email Kelly Malcolm, Programming Director at kelly@pumphousetheatre.ca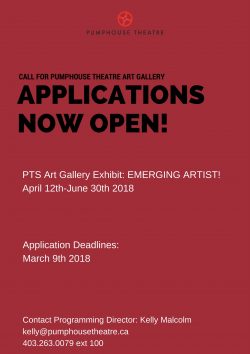 Submissions are now open for
PTS Lobby Art Gallery: Emerging Artist
April 12th-June 30th, 2018
Submission Deadline: March 9th, 2018
The Pumphouse Theatre is a vibrant facility with historical significance supporting and presenting all art forms; and creating opportunities for engagement, enrichment, cultural experience, learning and inspiration serving all Calgarians. The PTS Art Gallery provides accessible wall display space for Calgary and Alberta visual artists to display and sell their work, free from commission.
Submissions must meet the following requirements:
• Artist resides in Alberta and must be available for installation.
• Artist must be an Emerging Artist, defined as being active 5 years or less in the industry.
• Artwork must be delivered ready to hang (wall-space only)
Installation Requirements: All art should be equipped with picture hanging wire or appropriately placed D or Triangle ring hanger. Frames less than 9/16" depth with no attachment can typically be accommodated.
To apply, please send the following information via email or mail:
• PTS Art Gallery Submission Form
• Artist Biography (250 words max)
• Artwork: Photos, maximum of 5, do not send original works.
Timeline
Submission Deadline: March 9th, 2018 4pm
Installation: April 8-11th 2018
Gallery Close: June 30th 2018
Applications or queries are sent to:
Pumphouse Theatre Art Gallery Submissions
Attn: Kelly Malcolm, Programming Director
2140 Pumphouse Ave SW Calgary, AB T3C 3P5
Kelly@pumphousetheatre.ca 403-263-0079 ext. 100
Selection Process: Art pieces are selected by a committee of no less than 3 people and are a mix of artists and administrators. Selection criteria is based on: suitability to the theme, artist's technique, elicited emotional response, creativity & innovation, and suitability for the Pumphouse Theatre art gallery space and its patrons (ages 8-80 representing various socio-economic and cultural backgrounds.
CLICK HERE FOR THE SUBMISSION FORM