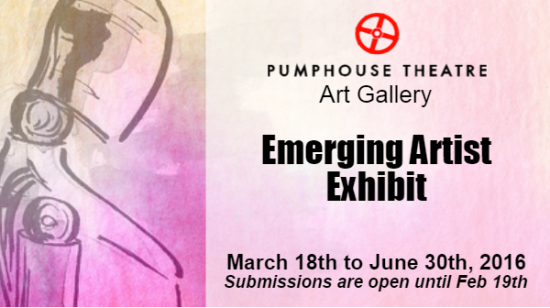 The Pumphouse Theatre is a vibrant facility with historical significance supporting and presenting all art forms; and creating opportunities for engagement, enrichment, cultural experience, learning and inspiration serving all Calgarians.
The PTS Art Gallery will provide accessible wall display space for emerging Calgary and Alberta visual artists in a variety of styles/mediums to display and sell their work March 18th to June 30, 2016.
Submissions must meet the following requirements:
Artist resides in Alberta
Artwork must be delivered ready to hang.
Artist must be available for installation
Artist must be an Emerging Artist, defined as being active 5 years or less in the industry.
Timeline
Submission Deadline: February 19th, 2016
(Artists will be notified within 3 weeks of submission deadline)
Installation: March 14th to 16th
Opening Reception: March 18th 5:00pm -7pm
Exhibition: March 18th to June 30th, 2016