I was born and raised in Alberta and since a young age, I have always enjoyed the process of creating. As a child, I was always painting rocks and designing elaborate mouse houses with my twin sister. To this day I love experimenting, sometimes failing, and coming up with creative solutions to the problems I encounter. After attending the University of Alberta with a major in art education,  and teaching art for four years for Rockyview schools, I have discovered the power of art to heal and inspire myself and others.
One of the biggest inspirations in my artwork is colour. I love experimenting with colour combinations and I find myself fascinated with the ability that colours have to affect our emotions and lift our spirits. Each colour has something unique to offer.
The medium that I prefer to use is oil paint because of the endless colours I can layer through the alla prima method. I enjoy this method because paint can be continually pushed around and no stroke is final, so there is no chance of making a mistake!
The subject matter I prefer to paint most is people. I enjoy painting portraits because I am drawn to the unique features that make up each individual. Many of my portraits are from my travels around the world and seek to capture an authentic version of that specific individual. With the combination of rich colours and bold backgrounds, I strive to contrast realism with abstraction.
Instagram: @bahnuik_art
Drool
11" x 14"
Oil on Canvas
$250.00
Description: This piece is inspired by the patiently waiting puppy that fixates his eyes on his owner's meal. His droll represents a deep longing for something he can't have. The puddle that ensues is so great that even a large human can wipeout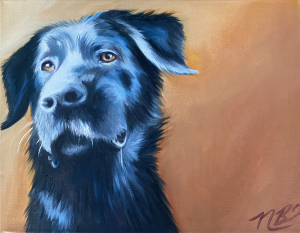 Robyn's Robin
16" x 20"
Oil on Canvas
$300.00
Description: The Robin that perches on the girl's head signifies renewal and perseverance. The girl's somber look projects the deep contemplation of her existence, yet the robin urges her to be patient with herself. He is a spiritual sign that gives her hope for the future