I am a junior high teacher who has lived in a variety of countries. I have a master's in English literature.  My passion for art was passed down to me by my father who was an artist in New Zealand. I have taught art as a subject at the junior high level and am currently doing so. The various Art galleries of the world were a focus of my ten years of travelling and Art has been a passion of mine all my adult life from sketching to Watercolour and Acrylic painting. I am particularly interested in Abstract art and I try to communicate my beliefs and worldview through my Art. For the past twelve years, I have resided in  Calgary with my wife and two children.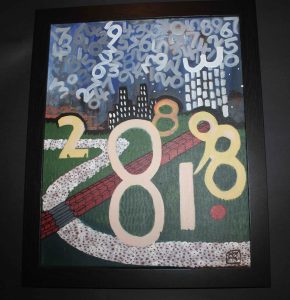 Self Portrait No. 1
22" x 18"
Acrylic, Felt Pen on Canvas
$300.00
Description: Questioning our need to rank everything.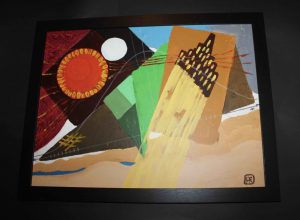 Possibility, Probability, Certainty
26" x 20"
Acrylic on Canvas
$300.00
Description: All possibilities become certainties with an infinite amount of time.