RAZA is a multi-medium arts collective formed by Colombian artists Valentina and Alejandra Caraballo with the intention of expanding their understanding of self and the world through art. RAZA was born from a sense of otherness, informed by the artists' immigrant experience, and the relief art provided and continues to provide for them. The collective was created to be a space where otherness is necessary and invited while exploring and learning new forms of creating, understanding, and unlearning. 
Alejandra is a student of Political Sciences, where she has drawn her strong interest in social phenomena and the complexities of world politics. Alejandra's art has been a continuous reflection of her life experience in the social contexts she has been subject to. Such as her upbringing in Colombia, under a catholic and misogynistic system. And her development in the western context, where she has had to combat her upbringing with a new set of challenges. Laura is a folk 2D artist and uses inspiration from her passion for film to connect imagery with concepts.
Valentina Caraballo is a student of Visual Studies at the University of Calgary. The artist's practice is inspired by her desire to understand the motivations behind human behaviours. Hence, her artworks center around exploring the act of being, the human, and the self. Valentina's works use colourful pallets and satirical imagery to bring forth her intention in a whimsical yet challenging manner.
Inner Isolation
24" x 18"
Acrylic on Canvas
$450.00
Artist: Alejandra Caraballo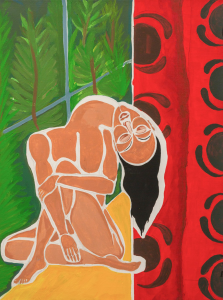 Hide Your Anger
7" x 7"
Acrylic on Wood
$80.00
Artist: Valentina Caraballo