February 22, 2017 10:37 am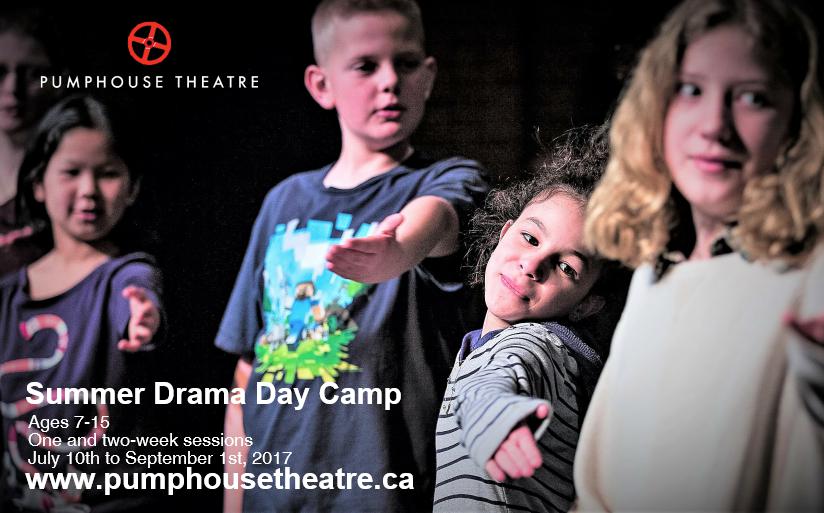 Session 1: July 10-21
$500
Session 2: July 24-28
$300
Session 3: July 31 – August 11
No class August 7
$475
Session 4: August 14-18
$300
Session 5: August 21-Sept 1
$500

The 2017 CAMP THEME is "Mystical, Magical & Medieval"
The Pumphouse Theatre Drama Day Camp is a great introduction to drama basics. Participants learn through dramatic arts to gain confidence, make friends and have fun!
Each day of the camp is divided into classes, covering a variety of acting techniques, speech, physical theatre play creation, and much more!. Emphasis is placed on group work that help to develop social and life skills. Under the guidance of our professional instructors, participants will work together within their age group to create a play. At the end of each session, participants will showcase their new talents to family and friends by performing this brand-new creation.
A $50 Discount applies  to multiple registrations per family or to registrations received before June 10th.
Participants are 7 to 15 years old.  Final performances are on the second Thursday of the two-week sessions, and on the Friday of the one-week sessions. Participants receive an official camp t-shirt, and a DVD of their final performance.
Times
Monday to Friday: 9:00 am – 4:30 pm
Pre-Care: 8:00 am – 8:45 am
Post-Care: 4:45 pm – 5:30 pm
Pre & Post Care are included in the cost of registration.
Cancellation is permitted (less a $25 administration fee) provided notice is given a minimum of 10 business days prior to the first day of camp. No refund will be given with less than 10 business days notice, without a doctor's note.
If you have any questions, please email Kelly Malcolm, Programming Director at boxoffice@pumphousetheatre.ca.

---
We are pleased to announce our Referral Rewards Program!
Click here for more information.
---
What Parents Are Saying About Summer Camp
We asked, "what did you like most about camp?" and here's what they said:
"How positive and encouraging it is. [My] kids always want to return and have a great experience."
"[The] convenience of parking, schedule, child came home excited and happy, venue was a prime location."
"The expressions on my kids faces when they described their days."
"My son is very engaged and enjoys every minute of it."
"The courage my daughter gained, an outlet for her creativity and the friends she made."
"The good news and fun that my child kept telling me about every day!"
(Photo credit: Jeff McDonald Photography)