My name is Viviana Pacheco, I was born in Guatemala and grew up in Northern, Manitoba. I studied graphic design at Selkirk College, in BC, it was not a career I pursued, choosing instead to travel and work in other fields. I have had my own day home business for 17 years full-time. In 2016, I was invited to a paint party, and after the first painting, I bought my own paints and canvases and began what has now become Viviana Pacheco Fine Art.
My art is highly influenced by my Hispanic culture in my use of colour, by artists like Georgia O'keefe and Lee Krasner with their bold strokes of paint and use of the canvas, also the art nouveau movement influenced my love of stencils, patterns, and graphic style. Being self-taught, I read art history books to learn more about my craft, and to get inspired. I primarily paint on stretched canvas but love virtually any substrate on which I can use acrylic paints, spray paint, resin, and stencils. I often begin with creating a background, and I prepare 5-10 canvases at once, picking a subject or theme, I work on many paintings in one sitting, I have been very prolific over the past four years, strengthening my style.
My most recent achievements include being chosen as one of three emerging artists for an International Women's Day Campaign at a local mall, and also as an artist for an online collective campaign for the same celebration.
Website: www.vivianapachecofineart.com | Facebook: @vivianapachecofineart | Instagram: @vivianapachecofineart
Acquainted with the Night*
18" x 24"
Acrylic / Oil Pastel
$490.00
Description: Lion
*This piece has been selected as the official artwork of the IGNITE! Festival for Emerging Artists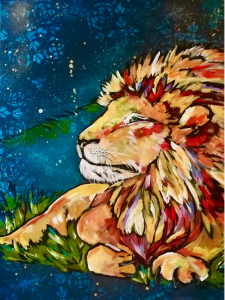 Ode to the Humble
18" x 24"
Acrylic / Oil Pastel
$490.00
Description: A bee on a flower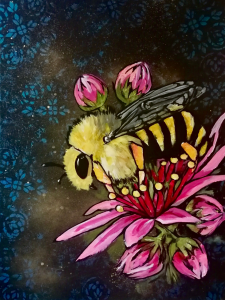 Out of The Barn
18" x 24"
Acrylic / Oil Pastel
$490.00
Description: Barn Owl