October 3, 2017 2:15 pm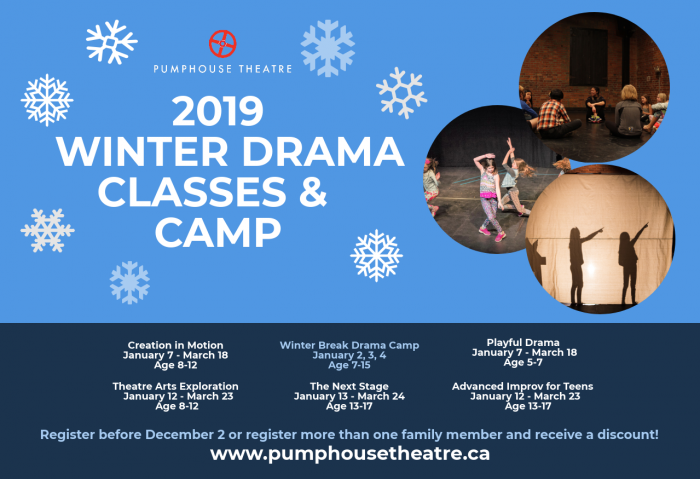 ---
Winter Classes


---
Ages 5-7
January 7 – March 18, Mondays 5:00pm-6:00pm
(No class on February 18)
Fee $100 ($80 Discounted)
This course is a great introduction to the drama basics and covers a variety of topics including story-telling, character, sharing, movement, and theatre games. This is a wonderful way to help your child explore their imagination, learn new skills, and have fun! No experience required!
---
Ages 8-12
January 7 – March 18, Monday 6:00pm-8:00pm
(No class on February 18)
Fee $225 ($200 Discounted*)
Explore storytelling and harness imagination through physicality.  Creation in Motion will encourage creative expression through movement, choreography, mime, balance, staging, and mask.  Students will learn about teamwork, gain self-confidence, and be physically active, all within a safe and engaging environment. No previous experience is required!
---
Ages 8 – 12
January 12 – March 23, Saturdays 10:00am-12:00pm
(No class on February 16)
Class Fee: $225 ($200 Discounted*)
This course is an all-inclusive exploration of the theatre arts. Students will be encouraged to discover a variety of dramatic techniques such as character creation, improvisation, movement, Shakespeare, scene study, and more! Have a blast creating and performing an original final presentation for friends and family. No previous experience required!
---
Ages 13-17
January 12 – March 23, Saturdays 10:00am-12:00pm
(No class on February 16)
Fee $300 ($275 Discounted*)
Improv is a great way to have fun and explore while bolstering creativity, adaptability, team work, and confidence. This course includes lessons in theatre sports, character development, story-telling, and many favourite improvisation games. Be inspired to think outside the box, learn something new, and have fun!
---
Ages 13-17
January 13 – March 24, Sundays 6:00pm-8:00pm
(no class on February 17)
Fee $300 ($275 Discounted*)
Want to learn more about what it takes to make it in theatre and film? This class provides the opportunity for teens to learn the ins and outs of the professional theatre, film, and television world. Learn the tricks of the trade when it comes to auditioning for both stage and screen, and learn advanced acting techniques to prepare you for the profession. Some experience is recommended!
---
Winter Camp
9 am – 4:30 pm, 

January 2nd, 3rd,  4th


The Pumphouse Theatre is happy to introduce the newest member of the theatre education family – Winter Break Drama Day Camps! The Winter Day Camps will happen on January 2nd, January 3rd,  and January 4th, 2019.
Participants ages 7 to 15 are welcome to enroll in any combination of one day, two days, or all three days! Each day will be a different theme and jam-packed full of creative drama activities. Our amazing instructors will teach everything from mask making to puppets, character creation to play writing, and so much more! Whether you are brand new or a seasoned pro, these drama day camps have something for everyone to enjoy.
One day enrollment: $60.00 ($50.00 after discount)
Two day enrollment: $80.00 ($70.00 after discount)
Three day enrollment: $100.00 ($90.00 after discount)
---
Cancellation is permitted (less a $25 administration fee) provided notice is given a minimum of 10 business days prior to the first day of camp. No refund will be given with less than 10 business days notice, without a doctor's note.
* Discounts apply to those registering before December 2nd, 2018 or those registering multiple participants from the same family.
If you have any questions, please email Kelly Malcolm, Programming Director at kelly@pumphousetheatre.ca.