August 21, 2017 11:55 am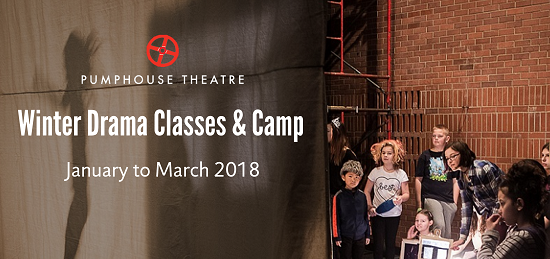 The Pumphouse Theatre is happy to introduce the newest member of the theatre education family – Winter Break Drama Day Camps! The Winter Day Camps will happen on January 3rd, January 4th, and January 5th 2018.
Participants ages 7 to 15 are welcome to enroll in any combination of one day, two days, or all three days! Each day will be a different theme and jam-packed full of creative drama activities. Our amazing instructors will teach everything from mask making to puppets, character creation to play writing, and so much more! Whether you are brand new or a seasoned pro, these drama day camps have something for everyone to enjoy.
One day enrollment: $60.00 ($50.00 after discount)
Two day enrollment: $80.00 ($70.00 after discount)
Three day enrollment: $100.00 ($90.00 after discount)

Cancellation is permitted (less a $25 administration fee) provided notice is given a minimum of 10 business days prior to the first day of camp. No refund will be given with less than 10 business days notice, without a doctor's note.
Discounts apply to those registering before December 3rd, 2017 or those registering multiple participants from the same family.
If you have any questions, please email Kelly Malcolm, Programming Director at kelly@pumphousetheatre.ca.

Winter class information will be available mid-September!