Apiow Akwai is an emerging artist based in Calgary, Alberta. She was born and raised in South Sudan until the age of eight. Apiow and her family immigrated to Canada to escape the civil war and pursue higher education. She discovered her passion for the arts at the age of six. What started as a creative and emotional outlet led to her deep respect and appreciation for the arts.  
She first became interested in pursuing a career in visual arts after attending her first exhibition devoted to Michelangelo Merisi Caravaggio at the National Gallery of Canada. Caravaggio's style incorporates raw and haunting emotions that resonate deeply with Apiow as a person and as an artist; greatly inspiring her work. Her work primarily focuses on the contrast between light and dark shadows;  highlighting the fine details of the dark and beautiful chaos of emotions that is intentionally portrayed across all her work. Apiow uses oils and acrylics on canvas and on larger scale pieces. She also uses mixed media and graphic design.  
Apiow graduated from Sheridan College in the Visual and Creative Arts program; with hopes of becoming a certified Art Therapist. She has also worked with non-profit organizations such as the Boys  and Girls Clubs of Canada and has spearheaded art-based initiatives to inspire young people from at-risk communities to have an outlet. She has over six years of experience working with youth in educational,  recreational programming and teaching visual arts. Apiow is currently working on a new project for her next show in fall 2021 and is studying psychology at St. Mary's University with the hopes of becoming a  registered art therapist. 
Website: www.apiowakwai.com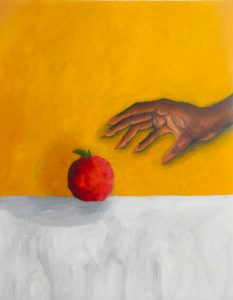 Bitter Sweet
Oil and Acrylic on Canvas
$75.00
Description: A still life painting  created in oils and  acrylics on canvas  board using a  mirror to illustrate  my hand grabbing  an apple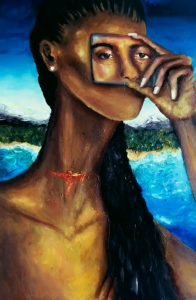 What Do You Remember Me Saying
16" x 20"
Mixed Media on Canvas
$85.00
Description: This painting was created with mixed media on a 16 by 20 canvas. I was inspired by the Mona Lisa and decide to create a personal and modern version. The figure is of a weary, delirious woman gazing through a reflective broken glass. The woman is seen holding a piece of glass covering her
expressionless face looking onward, almost optimistic for the future. This painting represents the women who have faced injustices and equality through the
centuries in a world that is catered to men.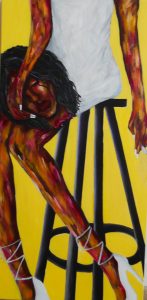 Summer Nights
16" x 40"
Oil and Acrylic on Canvas
$125.00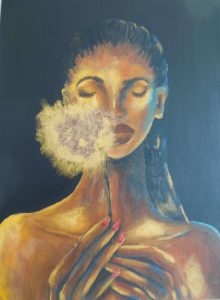 The Woman
16" x 20"
Mixed Media on Canvas
$65.00
Description: A Woman Holding a Firework Stick.
Sunsets
*** We do not have an image for Sunsets***
18" x 25"
Oil and Acrylic on Canvas
$100