Christine Hornung is a Calgary-based visual artist who works with oils, charcoal, wax and collage. She is passionate about motherhood and ecology and the complex intersections of the two. Wildlife references, particularly birds, are a consistent presence in her art practice. "Gas Mask Bee" and "Polar Bears and Penguins" are a reaction to her young son's pessimism and obsession with climate change and his belief that there will not be a world for him to inhabit by 2050. In "Gas Mask Bee" the entire piece is covered in beeswax. The viewer may remove the mask to look through it themselves, in the hopes of stimulating empathy for the decline of bee populations due to pesticides. In "Polar Bears and Penguins" species that live on opposite ends of the earth are ridiculously depicted existing together in harmony and collaborating to stay cool. Removable hand fans are attached with strong magnets. The viewer is able to remove and use the fans, before placing them back on the painting.
Both pieces are part of an ongoing series about climate change using humour to initiate a discourse about this depressing and overwhelming topic. These are interactive paintings, with pieces that are meant to be removed, admired, considered, and then replaced. Inviting the viewer to be an active participant with the work will hopefully spur conversations about climate change.
Christine has a MSc in Ecology, runs SomeArtyGirl studio in Inglewood (Calgary), and this spring completed her BFA while raising her three children.
Instagram: @SomeArtyGirl | Website: www.SomeArtyGirl.com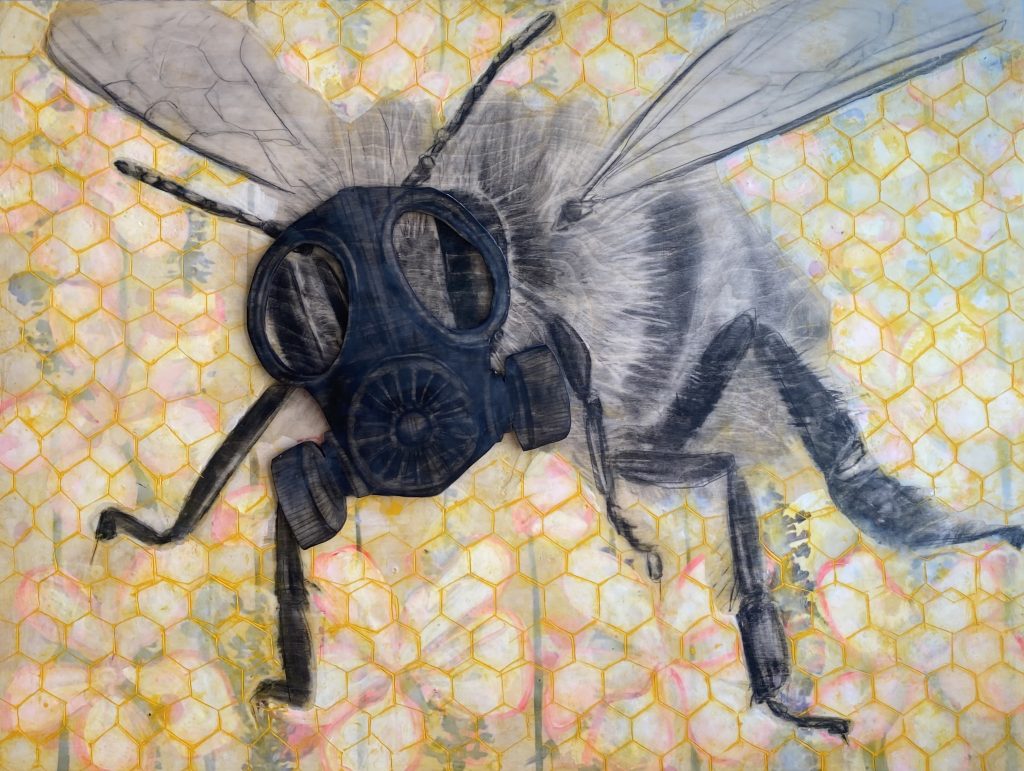 Gas Mask Bee
Acrylic / Spray Paint / Ink
61" x 38"
$3600.00
Polar Bears & Pengiuns
Acrylic / Spray Paint / Ink
61" x 38"
$6100.00