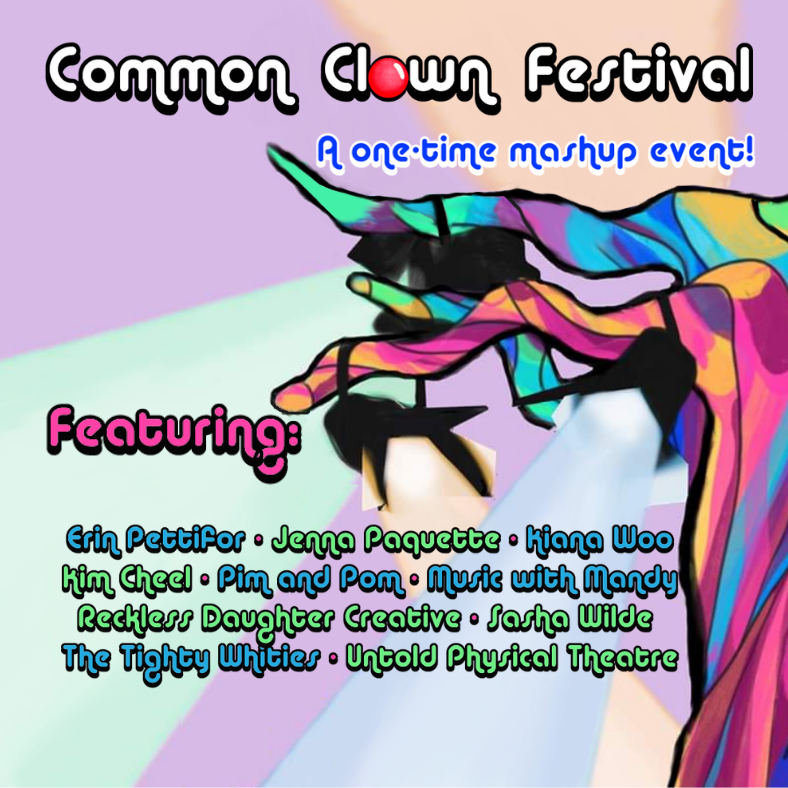 The Calgary Clown Festival and Common Ground Festival are partnering for one time only to give you the Common Clown Festival!
We have been so disappointed to have cancelled these festivals due to ongoing restrictions, we didn't want to miss another opportunity to showcase the amazing talent that both festivals present.
The Common Ground Festival is focused on giving new emerging artists a place to present new works in a supportive environment. The Calgary Clown Festival is a celebration of physical theatre and all the magical possibilities that can come from a clown on stage.
There will be a great combination of family friendly and not so family friendly entertainment, everyone is sure to find something they like!
Ticket Prices:
March 10 – 12 performances; $20
March 11 – 12 Late Night Cabarets; $10
March 13 Family Day; General Admission $20 Children under 14 $10
As of March 1, 2022 the Pumphouse Theatre is aligning our public health requirements with the City of Calgary.
We highly encourage the use of masks within the space to assist with mitigating the spread of covid19. When supplies allow single use masks will be available for patrons who wish to use one.
Cleaning for the Prime Minister + Other Delusions by Kim Cheel (60min)
A One-Woman Show about the delusions we create for ourselves when the world becomes too much.
Content Warning: Strong Language, Sexuality, Religious Manipulation | Recommended for Audiences Aged 16+
The Box by the Pim and Pom by Jennifer Leblanc and Adelyn Blair (30min)
Pim & Pom have received an unexpected delivery. What is in the box?
Recommended for Audiences Aged 16+
Crude Days by Jenna Paquette (30min)
It is a ordinary day at the oil and gas plant. They have a new hire, Jamie who's first day without a supervisor. Lex who is happy to be back at work after a long medical leave. Daniel who is a little too focused on work. And Mark who is less focused on work and more focused on having a good time with his pals. As the day goes along the plant is being troubled by an uncertain incident in the past. How will the characters deal with the conflicts, feelings and blame that has started to come up? "Crude Days" is a dark comedy about peoples' inability and unwillingness to handle grief.
Content Warning: Strong Language | Recommended for Audiences Aged 16+
Inga and the Date by Kiana Woo (40min)
Feeling fresh and looking for love, Inga finds herself on a date. She's prepped and preened and ready to fall head over heels, but dates never really go the way you expect them to. And this date might just turn out to be the most peculiar one of all.
Content Warning: Alludes to Sexual Activity | Recommended for Audiences Aged 18+
Looking for something a little different? Join us for a fabulous evening of drinks and entertainment! These event will feature short 10-minute pieces from a variety of local artists.
Recommended for Audiences Aged 18+

Through the Eyes of Another by Sasha Wilde (35min)
"I am not who I think I am, I am not who you think I am, I am who I think you think I am." -Charles Cooley. Through the Eyes of Another explores the formation of identity through interactions with other human beings. How do the people we interact with become our mirrors?
Recommended for Audiences Aged 16+
Stigma, Pistil, and Style by Erin Pettifor (45min)
A feminist clown show exploring reproductive rights and bodily autonomy.
Recommended for Audiences Aged 18+
(Taylor's Version) by Untold Physical Theatre (45min)
(Taylor's Version) is an interactive dance party for people with guilty pleasures. An extension of Untold Physical Theatre's #JustGirlyThings universe, (Taylor's Version) invites both audience members and performers to honour themselves and embrace community through joyful indulgence in the feminine, the basic, and the cheugy.
Recommended for Audiences Aged 16+
The Way We Burn by Madeleine Taylor-Gregg (Reckless Daughter Creative) (60min)
In a Community where fire is an enticing mystery to children who've never seen it, where secrets are kept by everyone, and abortion and miscarriage are punishable by burning at the stake, seven women fight for their autonomy and what makes them feel safe. All while navigating the complexity of relationships with the women around them and discovering that access to information is everything.
Content Warning: Sexual Assault, Violence, Strong Language, Mature & Disturbing Content | Recommended for Audiences Aged 16+
Looking for something a little different? Join us for a fabulous evening of drinks and entertainment! These event will feature short 10-minute pieces from a variety of local artists.
Recommended for Audiences Aged 18+
Music with Mandy by Mandy Morris (45min)
Music with Mandy is best described as Fred Penner meets Ella Fitzgerald. The project consists of some of the city's most notable jazz sidemen: Matt Morris (keys), Kodi Hutchinson (bass) and Jim Johnston (drums). Mandy Morris uses her training as a jazz vocalist combined with her experience as a music and early childhood educator to entertain children and their families while simultaneously (and sneakily) educating them on jazz form, history, instrumentation, and creation.
Recommended for Audiences Aged 5+
The Tighty Whities Present…Death by The Tighty Whities (Kelly Malcolm & Emma Sinclair & Kathryn Smith) (45min)
Join clowns Olive and Pistachio, and their friend Smee (the box) as they discover the world around them in all it's mysteries. During a routine game of Hide and Go Seek, the clowns' lives are turned upside down when the game takes an unexpected turn. What ensues are episodes of mystery, tension, and of course joy. Winner of the 2013 ADFA Chinook and Provincial One-Act Festivals
Recommended for Audiences Aged 10+