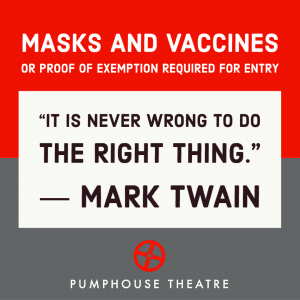 Effective September 20, 2021 The Pumphouse Theatres will be requiring everyone who enters our building to be vaccinated against COVID19 or provide proof of a negative PCR test.
This policy applies to our staff, clients, volunteers and patrons. We feel that this is in the best interests of public safety at this time. Although we are looking forward to a return to live theatre we want to do so with public safety as our first priority.
As of September 20, 2021 we will require one of the following conditions to be met from everyone entering the Pumphouse Theatres:
Proof of COVID19 vaccination:

Partial vaccination (one dose) accepted September 20 to October 25 if received 2 weeks before the performance you are attending.
Full vaccination (two doses) required after October 25
Proof of a privately-paid negative PCR or rapid test within 72 hours of service (tests from AHS or Alberta Precision Laboratories not allowed).
Documentation of a medical exemption
This is required of everyone aged 12 or older

Patrons will also need to provide government issued ID that matches the document that they present for entry
We will also be enforcing masking requirements. Face masks are required at all times, in all areas except by performers on stage or when eating/drinking. Face masks must cover the nose, mouth and chin. A limited amount of disposable masks will be available in the event that someone arrives without one.
If you have purchased tickets and are cannot meet these requirements, please contact the theatre company you purchased your tickets from. We will be unable to accommodate anyone who is has not to meet these requirements.
Stay safe, stay healthy, and welcome back to the theatre.