Julia Thompson is a first-year visual studies student at the University of Calgary. She has many interests in many artistic mediums but is most passionate about painting and scratch art. Although she enjoys exploring numerous themes in her artwork, nature is the most common. Her connection to nature roots from her hobbies of hiking canoeing, climbing, and backpacking.
Much of Julia's art is presented in a surrealist or contemporary way, she does this as a means to keep lots of room for interpretation and to speak to many people of different backgrounds as possible. She believes that there should not be one way of looking at things and admires the diversity of every individual.
Julia wants to go on to be an architect and is applying for her minor in architecture next fall. She wants to put her artistic and mathematical talents forward to help the community and sees this as a way to impact as many people as possible.
Instagram: @artbyjulia__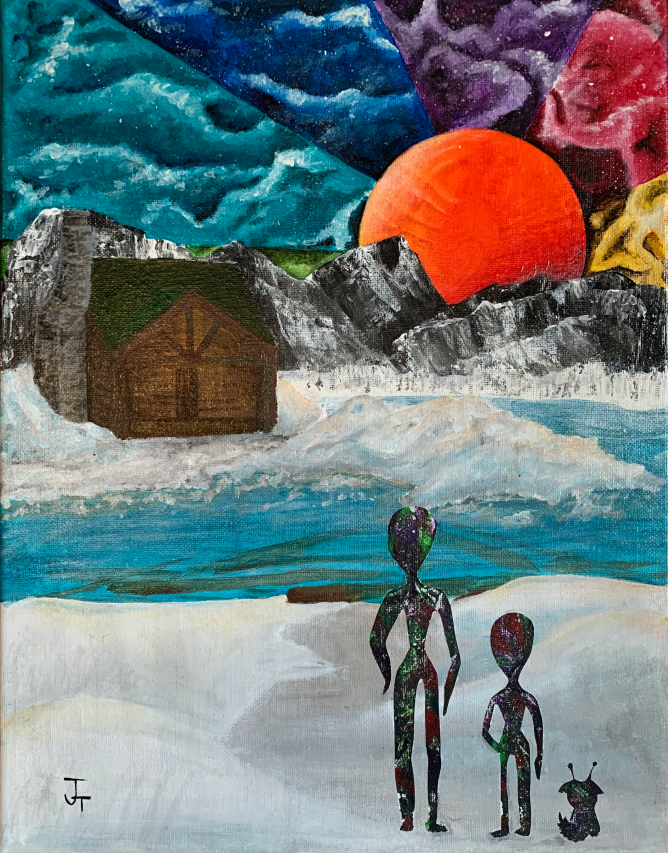 Where are we now?
Acrylic on Canvas
11" x 14"
$175.00
Barren Land, Fruitful Sky
Acrylic on Canvas
12" x 24"
$175.00
Sea or Sky ; Sky and Sea
Scratchboard Paper
10" x 12"
$175.00
Wise Night
Scratchboard Paper
10" x 17"
$175.00