Maria was born and spent her first 23 years in the central region of Colombia near the Andes in the city of  Manizales. Starting art classes at 10 years of age and having not yet stopped, she enjoys the social aspects and spirit of creation with other artists of all experiences and backgrounds. Without any boundaries, expressing herself through art is the ultimate freedom and vitality. Sharing her creative energies and enthusiasm is a passion that has led her to teach art classes to both children and has given rise to a future goal of practicing art therapy. Her works have been exhibited in Florida, North Carolina, 
Ontario and Calgary. One of the most recent works is "The Dance" a Public Art Project completed on  August 2021 collaborating with an artistic team.  
For more information, please visit International Avenue Public Art (calgary.ca)  or email Marialoaiza16@hotmail.com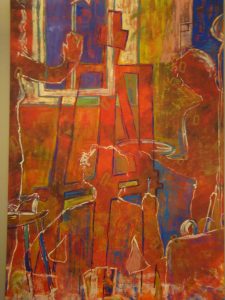 You Matter
49" x 71"
Acrylic
$800.00
Description: Expression of Inner Dreams and passion. Inspired in a vibrant red background.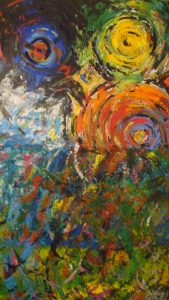 Blind Cooperation
33" x 55"
Acrylic on Canvas
$800.00
Description: Collection of images, collectively assembled.