With roots from Grande Cache, Alberta and currently living in Edmonton, Alberta. In the past year, I have finished my Fine Arts degree at the University of Alberta.
In this painting series, I am interested in working with and exploring the idea of the passage of time and its effect on spaces and materials. I also want to express an awareness of a personal relationship that we have with those effects of time.
I spent my early years growing up in the small rural mining town of Grande Cache. Here I witnessed, through the ups and downs of the economy, the results of abandoned homes. While occupied houses maintained a sense of not ageing, the boarded-up building next door deteriorated and seemed to age rapidly. I became aware that a balance between active living space and its decay is affected by the presence and maintenance of its human occupants. Time creates decay. We as humans have control over the rate of decay and when we are no longer present it goes unchecked. Nature will always reclaim its own. I'm choosing to explore this phenomenon by focusing on old, abandoned domestic living spaces where evidence of decay and the patina of time is dominant.
I ventured out on an expedition to known rural Alberta ghost towns, to gather source material from old abandoned buildings to witness times' transformation. I also sourced found photographs of these forgotten towns. I discovered something very powerful in the fact that there was evidence of occupancy and sudden abandonment.
In the painting process, I began by pigmenting water, applying it to a canvas and allowing a duration of time and evaporation to stain the surface. This process will mimic the effects of time that are happening within the environment of the subject matter. I negotiated between the resulting stains and my application of paint, creating a resolution to best interpret the balance revealed by the passage of time. The result is an eerie awareness that the ravages of time are always present, even in our own sanctuaries. I acknowledge that there exists a pattern of life and decay which is determined by the economy that we live in. The potential for more abandoned homes and towns is always there unless we intervene.
Website: www.meganbeland.com | Facebook: Megan Beland | Instagram: @megan.beland.paintings
Abandoned One
24" x 30"
Acrylic Paint
$500.00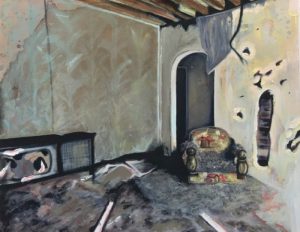 Abandoned Three
34" x 38"
Acrylic Paint
$650.00