Megan Nowlan is an Alberta-based artist, studying at the University of Calgary majoring in Art History and minoring in Philosophy. Megan has little classical training in the fine arts with only a single year at the Alberta University of the Arts in her background. However, she does not let this stop her from creating art she has been creating from a young age and will continue to do so into her adult years. Megan's practice now is based on her experience as a female artist within the world. She is sad to say often her works come from negative encounters of being a woman within the workplace and academics. Megan hopes to turn the negativities into positive visual representations to express thoughtful reflections of her encounters and perceptions as a woman.
Megan creates using multiple mediums including watercolour, photography, ink, digital drawing, and poetry. She does not wish to limit herself into a single medium, as she uses what will best express my idea to the fullest. Her work focuses on themes of femininity, feminism, Catholicism, nature, and her personal experience with mental illness. Often, Megan combines these themes in creating works for the expression of her own experiences within modern culture. Megan considers herself to be not religious in any aspect; but rather, but is interested in the historical impact of religion and its iconography.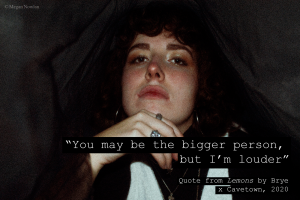 A Statement
10" x 12"
Digital Photography and Photoshop
$60.00
Description: A self-portrait making a feminist statement towards those who judged me solely based on my gender.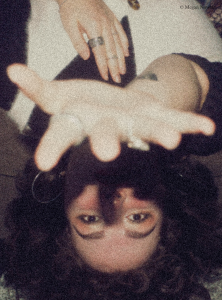 The Heavens
12" x 10"
Digital Photography and Lightroom Editing
$60.00