Peyton Wong is a bi-racial Canadian artist who currently lives in Calgary, Alberta. She is in her third year of study in her Bachelor of Fine Arts: Visual Studies Undergraduate degree at the University of Calgary. In the future, she hopes to pursue a graduate degree in the coming years. Peyton has begun entering the art exhibition scene, showing her work in the Youth Works 2016 Exhibitions, Calgary Catholic School District Central Office Student Art Exhibition in 2018 and Emerging Artist Exhibition PUSH 2020. Peyton has won the scholarship of Supreme Learning Fine & Performing Arts in 2017-2018. She hopes to engage in curating and be involved in the art exhibition world, in order to learn how to develop her professional and critical skills. 
Peyton Wong's art practice is inspired by narratives and children's media. Her inspiration comes from character and world-building in children's animations and video games. This concept helps her to explore issues addressing mental health in isolation, discovering identity and body image through her work. She works in both traditional and technical mediums such as acrylic painting, watercolour painting, drawing, digital illustration and video installation. Through her artistic skills, she strives to engage her creative experience in order to address real-world issues.
Instagram: @Tapupeypey | Twitter: @peytonoke
You're Tearing Me Apart
33" x 25"
Acrylic on Masonite
$650.00
Description: You're Tearing Me Apart is about representing the process of becoming independent. As the two figures exit out the wall of organs, they began to tug at the sheet of skin. They must separate to become their own individuals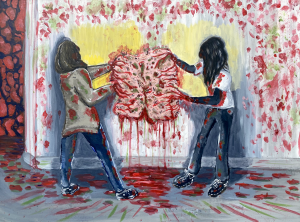 Owls
26" x 26"
Acrylic on Masonite
$600.00
Description: Owls is a painting about parallelism and mystery. The curtain in this painting slits the plane into two different settings, a quiet room of books and a mother owl with her chick. In that quiet room, in the parallel world, there are owls that live in the same place. Owls represent the importance of the natural world in humanity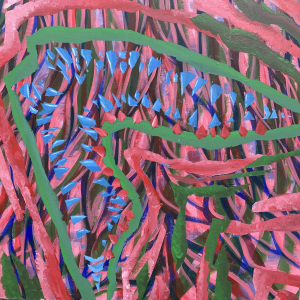 Sharks
26" x 26"
Acrylic on Masonite
$600.00
Description: Sharks is an abstract acrylic piece that comments on how we treat our oceans. I've chosen paint in unusual earthy colours because you wouldn't usually see them in the ocean. Here I'm showing that marine life is slowly being destroyed by man=made problems. The ocean is becoming a part of the land, and the issues on land are seeping into the oceans.