Zainna Alea Dilan is a Fifth-year student at the University of Calgary, majoring in Visual Studies while minoring at the Architectural program at SAPL. During her early years as an artist, she had always used art as a way to advocate for mental health. Her work involved experimenting with different ways viewers perceive content through extreme angles. She also explored various mediums such as graphite and oil pastels, as well as advanced mediums such as electronic arts, to illustrate her type of work.
Currently, her new works promote self-love and self-care. Works such as Giving Thanks to the Fingers I've Been Blessed with and Today, I Let My Tears Wash Away the Pain, endorses the idea of accepting reality and finding peace in oneself. She believes that by promoting these ideas, people would accept reality and support one another. Moreover, it would bring awareness to how society overlooks different types of beauty and mental illnesses
Website: http://zainnadilan.wixsite.com/ | Instagram: @zainna.does.art
My Kind of World
46" x 32"
Oil and Acrylic on Canvas
$300.00
Description: My world is different and unusual but unique. People may not accept who I am, but I accept me, and that's what matters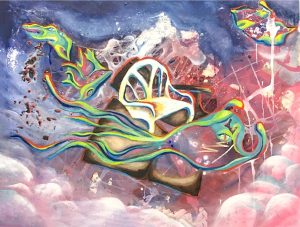 The Day You Left
48" x 36"
Oil on Masonite
$350.00
Description: No matter who stays or leaves you, it's going to be okay. Everything will be there just like how you left it. It's just them who's not there anymore.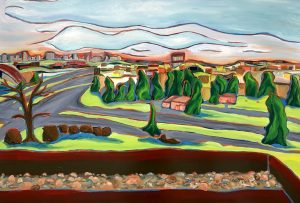 I Am Still Human
12 3/4" x 16 2/3"
Digital Illustration
$100.00
Description: With so much hate crimes happening to the Asian American community, I am so distraught and overwhelmed with emotions. Seeing the news of how many of us, our loved ones, and our elders have been deeply affected mentally and physically, breaks my heart. The thought of it happening to any of my loved ones or anyone at that matter brings me so much anxiety and sadness. It made me more afraid to step outside not knowing what's our last goodbye to each other overwhelms me. That's why I want to bring awareness to the hate crimes happening against Asian American communities and help support them in any way I can. It's important we remain strong especially in these times and encourage an anti-racist world for all