As of March 1, 2022 the Pumphouse Theatre is aligning our public health requirements with the City of Calgary.
As we are also a rental facility some of our clients may require additional measures above the public health orders. Please check with the specific event listing or your point of sale for further details.
We highly encourage the use of masks within the space to assist with mitigating the spread of covid19. When supplies allow, single use masks will be available , as supply allows, for patrons who wish to use one.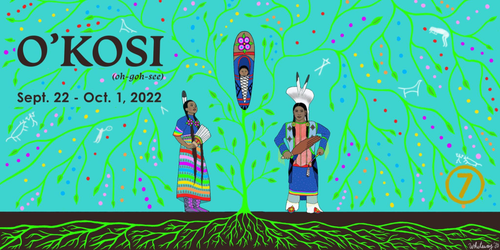 Making Treaty 7 presents O'kosi, a story that follows several individuals across the expanse of time and explores their relationship with Treaty 7 and with each other. O'kosi (oh-go-see) is the Blackfoot word meaning 'in the fall when we gather,' and refers to returning home to the river valley for winter camps.
Celebrated director Michelle Thrush, brings a talented cast of Blackfoot actors together to write and put to stage this visually spectacular production filled with music and poetry.
O'kosi depicts the ways in which Indigenous People are healing from the multidimensional and multi-generational effects of the signing of Treaty 7 and the Indian Act and how the repercussions of these policies have been passed to parents, sons, and daughters. Set in Mohkinstsis from 1877 to 2077, O'kosi imagines a shift toward breaking colonial systems, reuniting families, and healing communities. It is a love letter between parent and child.
Morpheus Theatre
Presents
Rumors
October 7th to 15th, 2022
Evening shows at 7:30pm 
Matinees at 2:00pm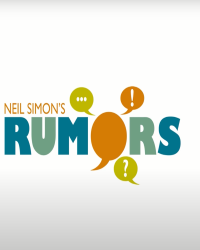 A farce by Neil Simon
Directed by Jay Newman
At a large, tastefully appointed Sneden's Landing townhouse, the Deputy Mayor of New York has just shot himself. Though only a flesh wound, four couples are about to experience a severe attack of Farce. Gathering for their tenth wedding anniversary, the host lies bleeding in the other room, and his wife is nowhere in sight. His lawyer, Ken, and wife, Chris, must get "the story" straight before the other guests arrive. As the confusions and miscommunications mount, the evening spins off into classic farcical hilarity.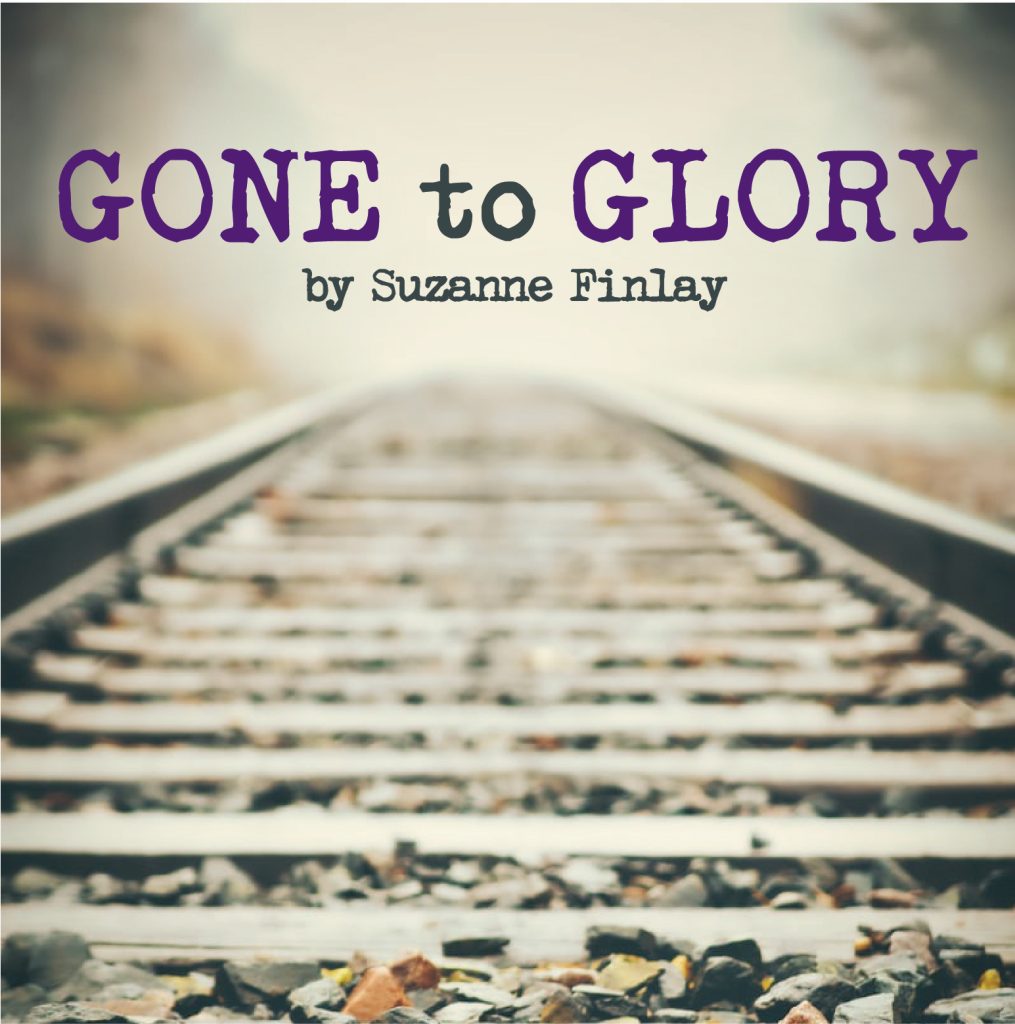 Imagine Performing Arts is back with another heartfelt story about characters you can't help but love. This spring, we will take you behind the lens with aspiring documentary maker, Teddi who can't get enough of the very real poverty that plagues elderly sisters Winnie and Lulu.  In a last-ditch effort to remain in the shack they call home, and despite the best efforts by their new 'landlord' Googie, Winnie and Lulu, agree to take part in the documentary when their old friend, Bakpak, brings Teddi along with him for a visit. What none of them could have expected was how much their lives would change in the short time they spend together.
Gone to Glory is produced by special arrangement with PLAYWRIGHTS GUILD OF CANADA.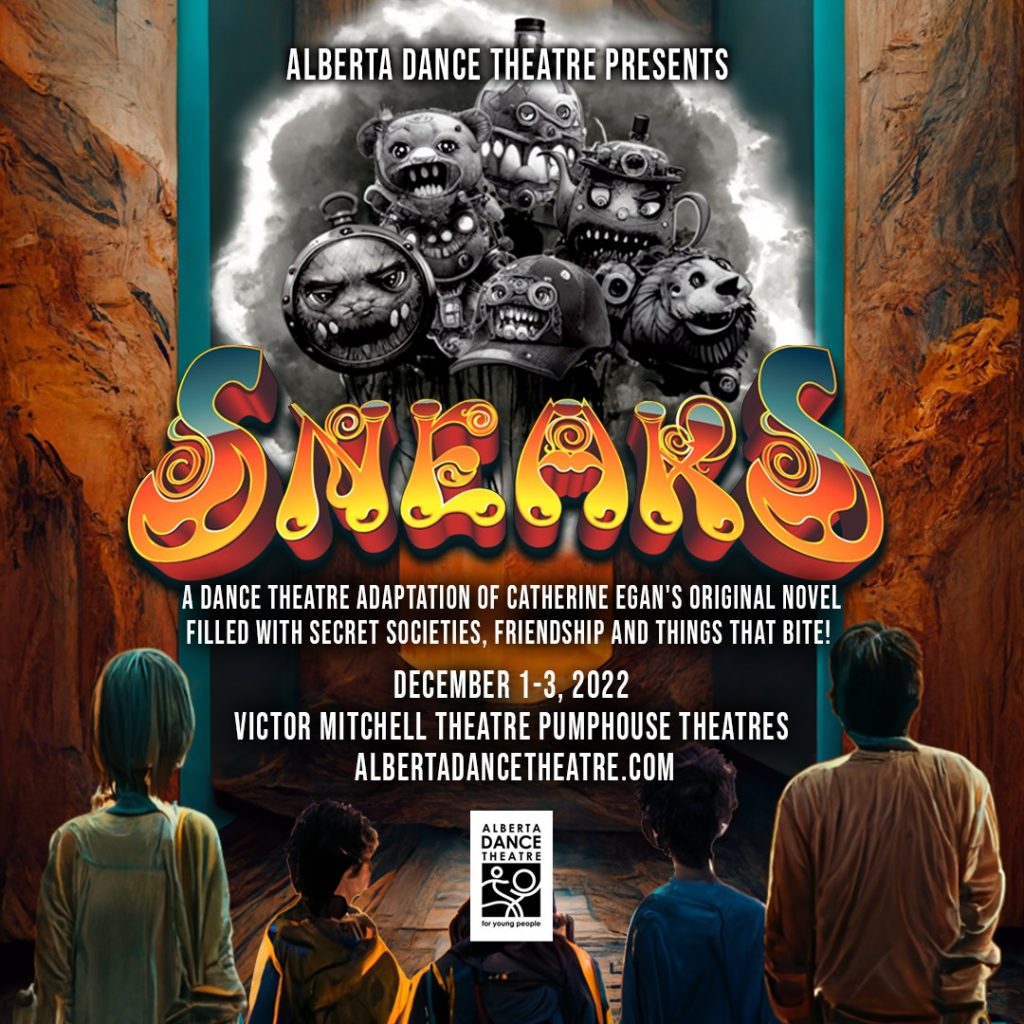 The Alberta Dance Theatre Youth Artists are thrilled to bring Catherine Egan's novel to the stage after 10 weeks of collaborative rehearsals alongside local arts professionals. 
SNEAKS tells the story of Ben, a young child recently separated from their very best friend, and facing the new school year alone … not to mention the otherwordly creatures that keep popping up, a strange librarian, an even stranger senior citizen, and the fast approaching end of the world. It'll be fine! As long as Ben can solve some puzzles and rely on a few new friends along the way.
Youth from across the City of Calgary gather annually to create alongside professional choreographers for 10-12 weeks. The result is a completely original, family friendly dance and theatre performance.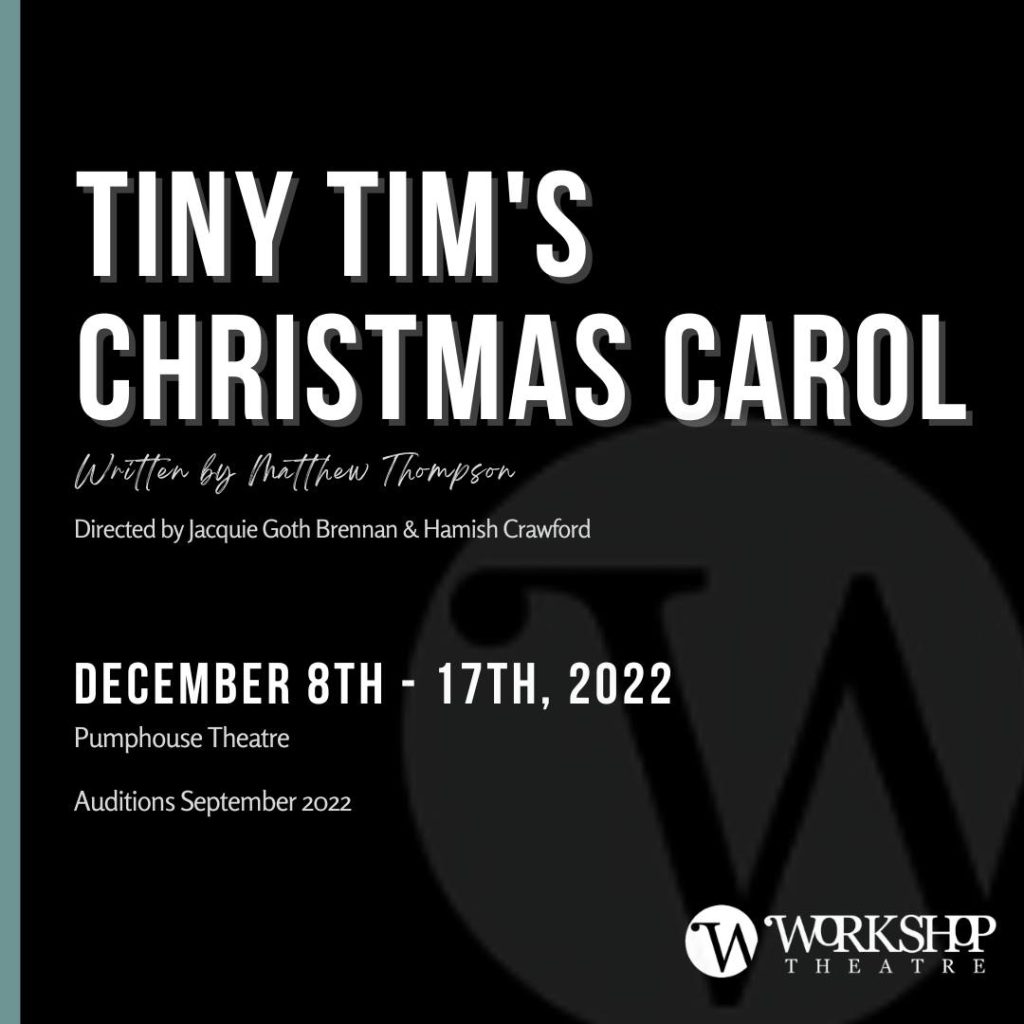 A father tells his young daughter a story of Ebenezer Scrooge on his terrifying and exhilarating journey to discover the true meaning of Christmas. But we do not realize until the end that the characters in this adaptation are more real than ever before. The covetous old miser who finds his heart turns out to be the little girl's Great-Uncle Scrooge, and her father is Tiny Tim, an even kinder, more insightful soul as an adult than he was as a child. This unique adaptation, infused with popular Christmas carols, is sure to make your audience feel alive with holiday spirit.
Morpheus Theatre
Presents
Treasure Island
December 9th to 17th, 2022
Evening shows at 7:30pm 
Matinees at 2:00pm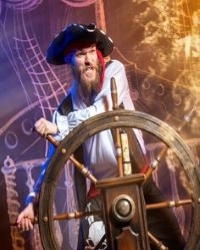 If you didn't get enough pirates last year, this one is for you! Treasure Island is the story of young Jim Hawkins and his adventures aboard a pirate ship headed by the fearsome Long John Silver. In this version of the tale however we also find out what happens to Jim's mother, his true love Jenny, her father the Squire, Polly the Parrot and of course the Smuggler's Cove Women's Institute as they join Silver's band of bloodthirsty pirates. A madcap, laugh a minute pirate adventure story from start to finish!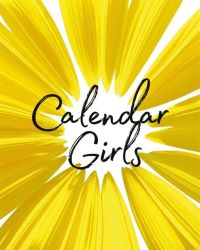 Morpheus Theatre
Presents
Calendar Girls
February 3 – 11, 2023
Evening shows at 7:30pm 
Matinees at 2:00pm
When Annie's husband, John, dies of leukemia, she and best friend Chris resolve to raise money for a new settee in the local hospital waiting room. They manage to persuade four fellow Women's Institute members to pose nude with them for an "alternative" calendar, with a little help from hospital porter and amateur photographer Lawrence. The news of the women's charitable venture spreads like wildfire, and hordes of press soon descend on the small village of Knapeley in the Yorkshire Dales. The calendar is a success, but Chris and Annie's friendship is put to the test under the strain of their newfound fame.
Based on the true story of eleven WI members who posed nude for a calendar to raise money for the Leukemia Research Fund.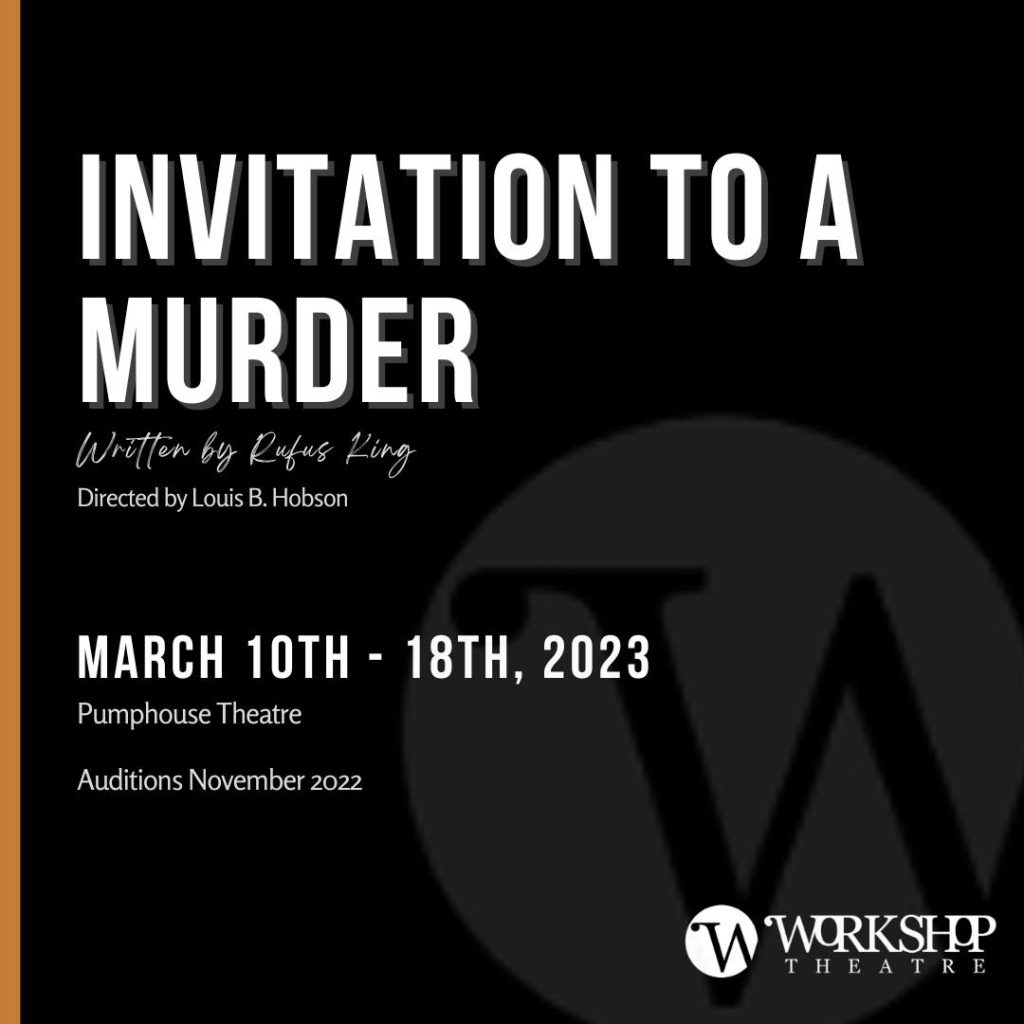 Against the background of a centuries old estate on the coast of Southern California, Lorinda Channing, the current head of a great American family, plots the perfect crime. Believing that one of her three heirs is attempting to murder her, she evolves a trap which requires the cooperation of a weakling doctor, whom she bribes into giving her a potion that will counterfeit death. The doctor, is, at the crucial moment, suddenly tempted by incredible wealth and, to his own and the audience's belief, buries his patient alive But she returns, and her ingenious trap is sprung. At the moment of her complete triumph, it is discovered that, as with all criminals, she has made one single slip.

CALGARY REGION ONE-ACT PLAY FESTIVAL
March 22 – 25, 2023
Stay Tuned for more information!
Morpheus Theatre
Presents
The Yeomen of the Guard
April 28 to May 6, 2023
Evening shows at 7:30pm 
Matinees at 2:00pm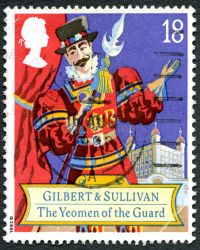 The show takes place in the Tower of London where Colonel Fairfax is wrongly accused of sorcery and sentenced to death within the hour. Fairfax hatches a plan to secretly marry a strolling singer, who now expects to be a wealthy widow upon Fairfax's imminent demise, leaving her free to marry her lover, the jester Jack Point. However, Fairfax miraculously escapes his fate and chaos ensues.
Unger and Madison are at it again! Florence Unger and Olive Madison, that is, in Neil Simon's hilarious contemporary comic classic: the female version of The Odd Couple. Instead of the poker party that begins the original version, Ms. Madison has invited the girls over for an evening of Trivial Pursuit. The Pidgeon sisters have been replaced by the two Constanzuela brothers. But the hilarity remains the same.