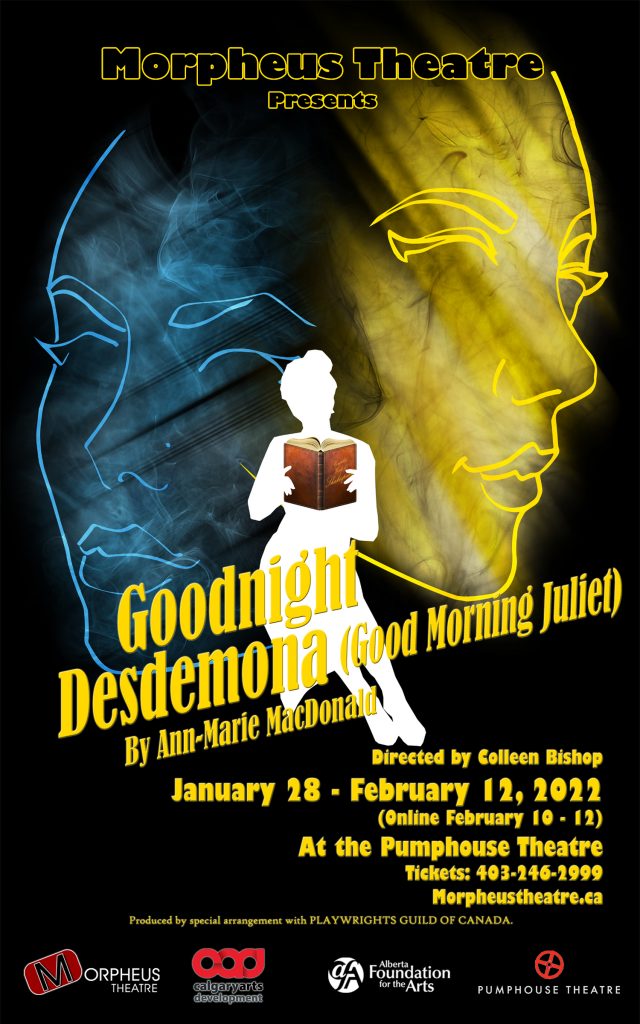 Show Times:
Wednesday - Saturday at 7:30pm
Matinees Jan 30, Feb 5, 6, & 12 @ 2:00pm
For Tickets:
Click Here
Directed by Colleen Bishop
Goodnight Desdemona (Good Morning Juliet) is an exuberant comedy and feminist revisioning of Shakespeare's Othello and Romeo and Juliet. It takes us from a dusty office in Canada's Queen's University, into the fraught and furious worlds of two of Shakespeare's best-known tragedies, and turns them upside-down. Constance Ledbelly is the beleaguered "spinster" academic, and unlikely heroine who embarks on a quest for Shakespearean origins and, ultimately, her own identity. When she deciphers an ancient and neglected manuscript, Constance is propelled through a very modern rabbit hole and lands smack in the middle of the tragic turning points of each play in turn. Goodnight Desdemona (Good Morning Juliet) is a gender-bendy, big-hearted and crazily intelligent romp, where irony and anger sing in perfect harmony with innocence and poignancy.

This is a distanced show at 20% capacity of the theatre. Our ticketing program automatically holds the seat in front, behind and beside your group when you purchase your tickets to allow for spacing between you and the other patrons.
For more information visit:
Morpheus Theatre
In compliance with Alberta Government requirements and City of Calgary Bylaws, we will require proof of vaccination through QR code only, documentation of a vaccination medical exemption, or a negative PCR or rapid COVID test (within 72 hours) from all patrons and volunteers. Documentation along with government issued identification will be required as you enter the Pumphouse Theatres building. In addition to providing the above documentation, face masks that cover the nose, mouth, and chin, are required to be worn at all times while inside the Pumphouse Theatres including while watching the performance. Face masks may be removed only while eating or drinking.
Stay Tuned for more show announcements!