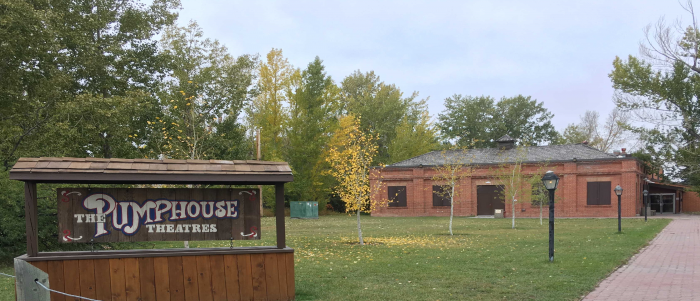 For more than 40 years, The Pumphouse Theatre has been a home for Calgary's emerging performing arts scene. In any given year more than a dozen companies will produce over 35 shows in the two theatres. The many diverse groups that perform at the Pumphouse Theatre range from large established companies to small up-and-coming artists collectives. Consequently, the shows produced here range from blockbuster musicals to Irish dramas to cutting-edge performance art as well as dance.
The Pumphouse Theatre is committed not only to providing a high-quality venue for the arts but also to keeping that venue affordable for Calgary's arts community. In order to keep costs manageable, especially for smaller groups and newcomers, rental rates for non-profit arts organizations are heavily subsidized.
OUR MISSION: is to enrich the cultural life of our community through the provision of affordable, accessible facilities, learning opportunities for youth, and a diversity of programming. We achieve our mission through the following programs: Theatre Rentals, Drama Education Program, Pumphouse Theatre Productions, Lobby Art Gallery, and Pumphouse Theatre Playbill.
OUR VISION: The Pumphouse Theatre is a vibrant facility with historical significance supporting and presenting all art forms; and creating opportunities for engagement, enrichment, cultural experience, learning and inspiration serving all Calgarians
OUR VALUES: We embrace the vision engendered by the entrepreneurial spirit of our founders. That spirit is sustained through long-term working relationships with our local community partners, supporters, clients and patrons.

We strive to offer high-quality education programs and activities to introduce Calgary's youth to the arts.
We are committed to fiscal responsibility and sustainability which allows us to provide a quality facility, with a unique heritage, in a natural environment as a venue for affordable programming.
We value diversity in our programming to support the growth of local and regional artists and arts organizations.
The Pumphouse Theatres Society is a CRA Registered Charity and incorporated under the Alberta Societies Act.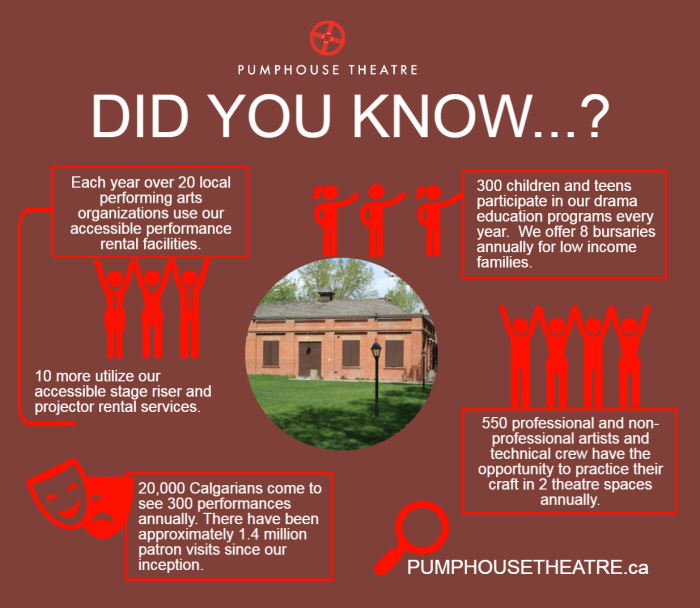 ---