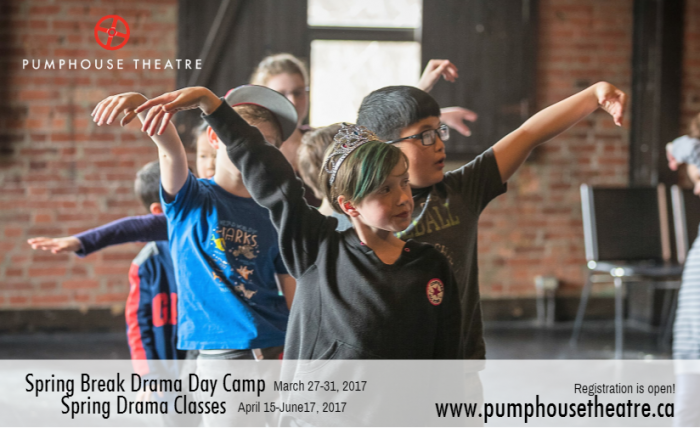 The Next Stage
Ages 13 – 17 @ The Pumphouse Theatre
Saturdays 10:00am-12:00pm; April 15 – June 17, 2017
Class Fee: $300 ($275 Discounted)
Early-bird deadline: March 15
Something new! This course is designed to give young performers a deeper understanding and practice into the world of performance. Students will explore more complex elements of acting and may include: monologues, scene study, playwriting, advanced improv, audition preparation, and more! Some previous drama class experience is recommended.
Theatre Arts Exploration
Ages 8 – 12 @ The Pumphouse Theatre
Saturdays 10:00am-12:00pm; April 15 – June 17, 2017
Class Fee: $225 ($200 Discounted)
Early-bird deadline: March 15
It's back! This course is an exploration of the theatre arts for any experience level and may include: scene study, designing, constructing, and performing. Students will have fun exploring theatre arts and learn a lot as they work with scripts and perform for parents at the final class.
SPRING BREAK DRAMA DAY CAMP
Ages 8-14
March 27-31st @ The Pumphouse Theatre
Monday – Friday 9am–4:30 pm (37.5 hours)
Fee: $300 ($250 discounted)
Pre/Post Care included in registration fee!
Early-bird deadline: February 27
Where every day is a little bit different! This camp offers a wide range of activities and drama games, taught by a team of professional instructors. In the afternoons, students work to develop a performance that will be shared with family and friends on the final day of camp, allowing students to put their new skills to practical use.
Whether a first-time camper, or a returning student who just can't wait for our summer session, Pumphouse Theatre's Spring Camp is a fun and creative way to spend spring break!

A $25 discount applies to all other class registrations received on or before February 27 for camp and March 14th for classes or for multiple registrations from the same family.
Cancellation Policy: Cancellation is permitted (less a $25 administration fee) provided notice is given a minimum of 10 business days prior to the first day of class. No refund will be given with less than 10 business days notice, without a doctor's note.
If you have any questions, please call us at 403-263-0079 ext 100 or email boxoffice@pumphousetheatre.ca.
(Photo credit: Jeff McDonald Photography)