The Common Ground Festival is back for round 6 this June! We are so excited to present some amazing performances that needed a stage! Because our motto is you've got a thing, we have a stage!
Come join us for a wide variety of work, by emerging and small professional artists and most shows can only be seen once! Each night is two – three shows per evening, with about 2 hours of entertainment for $30 per night if purchased in advance. Feel like taking a chance on tickets being left at the door? RUSH TICKETS $20 weekdays (Tuesday – Thursday), $25 Weekends (Friday/Saturday)!
A full list of all our artists and show descriptions is below as well as full schedule. For information how to get tickets visit the individual show page.
You may have seen the critically acclaimed "Drag Me To The Opera," well this new show is a companion piece, a prequel if you will. Peer a little deeper into my past as I take a foray into the musicals and the moments that dragged me kicking and screaming through life.
*This production deals with mature subject themes including homophobia and religious trauma as well as suicidal ideation.
A story of war and resilience told through dance and monologue
*This production contains themes of, depictions and audio simulations of violence and cultural trauma, including the usage of explosions and gunshots. 
A short dramatic play about how it is the simple pleasures in life that make life worth living. Like petting your cat and getting to know a stranger on a random rooftop.
* This production deals with mature subject matter including suicidal ideation.
A dramatic reading of the eight chapter of Douglas Adams' novel "Life the Universe and Everything" set to original music by Daniel Pelton
* This production contains the use of flashing lights and a fog machine. This production contains themes and depictions of violence, self harm, suicide and disability trauma.
I have a set of poetry I would like to share! It's thinking about my identity, cultural reconnection, my family, my love and my future. I am mixing my native language with prose and storytelling.
With original music, comedy, circus, puppetry and physical theatre, Jason leads the audience through exploration of the relationship between intellect, emotion, comedy and absurdity culminating in a climactic revelation about the power of silliness and joy!
*This production contains partial nudity.
On an ordinary day, a meteor hits a building. Trapped on the top floor is hopeful publishing Aiden and ambitious intern Bobbi. While they wait for their impending doom, Bobbi agrees to a first date with Aiden, should they survive. Five years later, Aiden and Bobbi are in a loving but mundane relationship. In an effort to rekindle the spark of how their relationship started, they decide to take on a series of "firsts". First date, first kiss and first "I love you". But can love strike twice?
*This production contains explosive sound effects.
Composer/ Violinst James Watson and Dance Artist Jocelyn Mac join forces to present a music-movement-mask collaboration! The first half of the work is a contemporary exploration of the qualities of each musical key based on a historical text published in 1682. The second section draws on elements of swing, mask work, theatre and above all, a sense of light heartedness
*This production contains the use of a fog machine.
A pretty kickass poet falling somewhere between spoken word and theatre rap. Topics include crappy Tinder dates, second hand trauma, relationships with bartenders, solidarity, sexual trauma, writing and career exploration are some of the explored topics
*This production contains themes and discussions of addictions and sexual trauma.
It's all about dirty affairs, tortured longing and murder in this gritty teen drama parody of Romeo and Juliet
*This production contains staged intimacy and simulated stage violence, as well as themes of substance abuse and racial trauma. Riverona is rated 14A for mature themes, suggestive dialogue and 'teens; with swords.
Bharatanatyam is a 2000-year old Indian classic art that is nearly extinct today. Originating in Tamil Nadu, India, Bharatanatyam is one of the eight Indian Classical dances incorporating solid facial expressions and footwork to express Hindu stories.
This comedy and wannabe poetry show will show the very funny side of OCD from "Sarah Tonin", the neurotransmitter depleted drag queen you never knew you needed.
*This production contains themes of homophobia, transphobia and mental illness.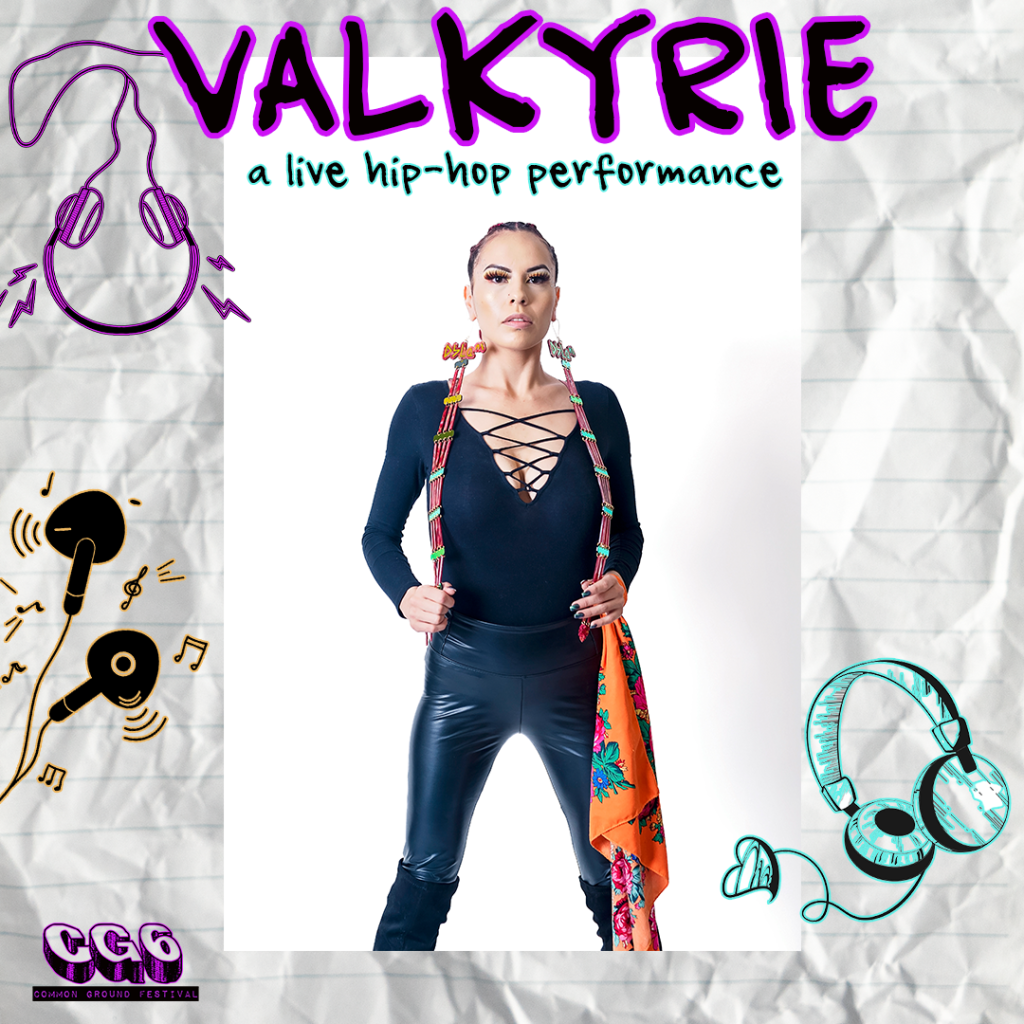 Valkyrie
Live Performance of Original Songs performed by Valkyrie from amiskwacîwâskahikan
(Treaty 6 Territory, Edmonton, AB)
Genre: Music
In Norse mythology, Valkyries decide who lives and who dies in battle. This Anishnaabe and Cree emcee decides who wins and loses musically, Valkyrie thrives as a one-woman force that isn't to be reckoned with. She is the granddaughter of a Residential school survivor and the daughter of a sixties scoop survivor and is a survivor of the child welfare system herself. She recognizes the healing power of music and uses her skills as a lyricist to build community through storytelling. Giving voice to harsh but relatable topics such as growing up in group care, MMIWG, alcoholism, and Intergenerational effects, with songs like U.I.Q and Take Control. She Intends to use both her education and music to Inspire and work with Indigenous and non-Indigenous youth. Valkyrie also brings a sound that you can dance, sing and vibe too! all genres come into play with songs such as Overdue, 6 AM and her remix collection. You can find her debut album "Postponed" on all platforms, along with her latest single "Shut it Down" featuring Pooky G & Crystle Lightning out now. Valkyrie is currently working on her follow up EP.